Insights |
By Howard Tiersky
WHY DIGITAL IS THE END OF BUSINESS AS YOU KNOW IT
Whether your business is window washing, restaurant supplies, maritime navigation, podiatry, or just about anything else, your customers' expectations are digital, and you need to reinvent yourself quickly.
There have been many periods of time when businesses could operate in more or less the same manner for decades, updating their advertising campaign periodically, creating marginally "new and improved" products every few years, and incrementally implementing operational enhancements to keep cutting costs and drive profits higher.
But those "good old days" are gone for 90+% of all industry sectors. Waves of disruptive digital change started in the travel and financial services industries in the late 90s, then hit the retail and media segments after that. Today, even industries as slow-moving as industrial manufacturing, higher education, and hospital operations require an increasing degree of digital centricity in order to be competitive.
In fact, your competitors, both traditional and "pure plays," are leveraging digital right now to drive better customer experiences and increased operational efficiencies—enabling them to offer more compelling value propositions to customers. If you aren't doing the same, it's going to be tough to remain relevant and price competitive.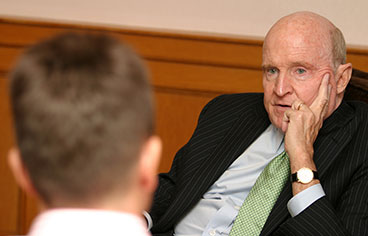 SPEED IS ESSENTIAL
It's not just a matter of needing to change but needing to do it rapidly to keep up. Jack Welch, the legendary former CEO of General Electric who is credited with increasing the value of GE by over 4,000%, said, "If the rate of change on the outside exceeds the rate of change on the inside, the end is near."
Many great companies are in just this situation, as is evidenced by the many shuttered or struggling brands we see today.
DIGITAL TRANSFORMATION IS CUTTING ACROSS ALL INDUSTRIES
I used to observe that, while digital may have transformed travel, retail, and financial services, it isn't going to change much about the value proposition of a box of Corn Flakes. That may still seem true, but take a look at another "consumer packaged goods" product category—the razor industry—and how that has been disrupted.
In 2011, Michael Dubin observed that there was customer pain associated with both the price of razors and also the difficulty of purchasing them in many retail stores, where anti-shoplifting measures meant that in order to make a purchase, customers needed to track down a busy sales associate to unlock the protected "razor fortress."
Dubin developed a competing razor utilizing digital design methods, engaged a third-party ecosystem of manufacturers to supply them, marketed them online, and fulfilled them directly through a new company he called Dollar Shave Club. This was so successful that, five years later, Unilever purchased Dollar Shave Club for around $1 billion. The company has inspired a number of copycat businesses such as Harry's Razors, recently purchased by the owner of Schick for over $1.3 billion.
Similarly, the food industry was disrupted not just by home delivery of groceries, but by services like Plated and Blue Apron delivering premeasured ingredients with recipes.
Taxi drivers weren't particularly worried that "digital taxis" would take their jobs. But now that Uber and Lyft are at scale, the taxi business is in freefall. In 2013, a license to own a NYC yellow cab (called a medallion) could be sold for as much as $1.3 million. Today, the price has dropped to as low as $160,000, a decline of 88%.`
Staying with the theme of vehicles, how important is "digital" to manufacturers of cars—a clearly tangible "real world" product? Accenture conducted a consumer study that revealed that the "digital" elements of a vehicle such as its GPS and entertainment systems now rank higher in the decision-making process of new car buyers than the driving performance and handling of the vehicle.
We can play this game for any industry—insurance, lawnmowers, construction. I just bought a garbage can that has an app that reorders custom-fitting garbage bags when I need them. It's great, and it creates recurring revenue for the manufacturer. They can sell the garbage can at a lower price because they know a good percentage of customers will subscribe for garbage bag delivery.
BARRIERS TO ENTRY FOR INNOVATIVE COMPETITORS ARE DROPPING
Most likely, someone else is already disrupting your industry with a digitally driven approach. If, miraculously, they aren't yet, get ready; it's coming soon.
There was a time when it was difficult to compete with large legacy businesses because they had scale, they had mindshare, and they had expensive equipment or facilities that required a substantial capital investment that small companies couldn't match. But these barriers to entry largely no longer exist. The reason is digital.
I have a new book, WINNING DIGITAL CUSTOMERS, which further explores how digital is transforming the business landscape. It also outlines the exact steps that companies must take to thrive in this new digital era. The first chapter is downloadable FREE at this link https://wdc.ht/freechapter.