Insights |
By Howard Tiersky
5 Reasons Self-Service Channels are Failing
Customers and companies both want self-service.
For customers, self-service channels provide a much quicker and more accessible way of resolving issues, that's why 70% of them opt to self-serve first before reaching out to live support. For companies, self-service delivers huge savings since it only costs $0.10 per contact on average, while live channels cost about $8 per contact.
Despite this alignment between customers and businesses, self-service channels still suffer from low-resolution rates and disappointing ROI. Only 13% of customers resolve their concerns through self-service, and less than 12% of companies that invested in self-service have hit their target ROI.
What's keeping self-service channels from achieving success? We found five key factors:
1. LACK OF CUSTOMER INSIGHTS
A lot of companies build self-service platforms without a complete and cohesive understanding of their customers' needs, behaviors, and preferences. This leads to putting up channels that are ineffective in resolving customer issues and only end up frustrating them.
For example, choosing a method for how customers can access a company's knowledge base—whether it's via FAQs, search, guided Q&A, or a combination of methods—requires good insight into how customers actually navigate the company website and what type of information they often look for.
At our company, FROM: Vision to Victory, the first step we take when developing digital solutions for our clients is to gain a deep understanding of their customers' needs and pain points through research. We tap multiple sources including usage analytics, customer feedback, observational/ethnographic studies, external data source, and more in order to get a complete picture of their journey with the business.
For example, when we were designing a new self-service experience for HealthPlanOne, a leading Medicare broker in the U.S., as part of our research we conducted observational research to find out the key areas that customers needed help with in choosing their Medicare plans. While some of the needs we observed were predictable, others were less obvious. The insights we gathered helped us develop an engaging digital interaction that offered different levels of guidance based on the customers' needs. This solution led to far lower customer contact costs with net higher conversion rates.
2. TAKING A "SET-IT-AND-FORGET-IT" APPROACH
Another key mistake that many companies make is treating their self-service channel as a one-time product that they can consider "done," once launched, without planning for continuous monitoring and adjustments.
The problem with this approach is, in the digital age, customer needs are rapidly evolving and their expectations are ever increasing, so a self-service experience that isn't able to keep up will be quickly abandoned.
For example, a brand may have a beautifully designed, easy-to-navigate self-service channel on their website, but if it doesn't have a continuous focus on their mobile-optimized version, it will soon be outdated. About half of global web traffic comes from mobile devices so using a mobile-first approach is now a necessity even for self-service. Mobile operating systems and browsers are also updated at a much faster pace than desktop devices, so these mobile experiences need to be regularly adjusted to keep up.
At FROM, one of the services we provide for our clients is heuristics analysis, which involves evaluating their mobile and other digital touchpoints to test them against current best practices. We also conduct an error audit wherein our analysts review common errors in the touchpoints and determine how these affect customer behavior. These methods allow us to quickly identify crucial problems and find swift ways to optimize the digital experience.
3. POOR USER EXPERIENCE DESIGN
Self-service channels that are confusing and difficult to navigate, requiring a lot of time and effort for customers to get the help they need, will inevitably fail.
A lot of companies develop their self-service resources to deliver comprehensive support for customers, thinking that the more information they put there, the better their channels will be. However, if this wealth of data is not well-organized and accessible, it results in an overwhelming maze of details that don't really help the customer resolve their problems quickly or easily.
A 2023 survey found that for customers, a good self-service user experience involves fast and easy access to the information they need. They want actual answers served to them instead of having to dig on their own. Delivering this requires a responsive, customer-centric UX design that puts ease and convenience above all else.
When we develop self-service solutions for our clients, we employ Design Thinking, an approach that integrates customer research throughout the development process and validates solution hypotheses to ensure that we are creating an experience that users will love. We conduct a series of moderated and unmoderated user testing to make sure that our designs are intuitive and responsive to customer needs.
4. "HIGH-EFFORT" TRANSITIONS BETWEEN SELF-SERVICE AND ASSISTED CHANNELS
A "high-effort" transition makes it difficult for customers to switch from self-service to a live channel. This means customers may still need to look for the call center hotline number, make a call, wait in a queue, and when they finally get to talk to a live representative, repeat the details they already provided in self-service.
Some 62% of customer service channel transitions are "high-effort" and this is turning people away from using self-service again.
Many customer service leaders think that making it easy to switch from self-service to live support will make people opt for live channels more, thereby defeating their goal of promoting self-service. However, the opposite is actually true: 74% of customers who experience seamless transitions to human customer support say that they will use self-service next time.
To reduce the level of effort in channel transitions, companies need to provide easy ways for customers to connect with a support representative when they are hitting a roadblock in self-service. Support reps also need to have quick access to customer details and context that was already shared in self-service.
5. INABILITY TO REDUCE NEGATIVE EMOTIONS AND BUILD CUSTOMER CONFIDENCE
According to a Gartner study, negative emotions such as anxiety, frustration, or doubt can drive people to abandon a self-service channel and seek human support.
A customer's negative emotions can be intensified by less than optimized self-service experiences: they have an issue they are working to resolve on their own, they are not succeeding, and no one is there to help them or assure them that they are doing the right thing and getting closer to resolution. When companies are able to lessen customer negative emotions, they are more likely to stick with self-service.
There are three key factors that encourage people to stay in self-service: clarity, credibility, and confirmation. Clarity refers to how easy it is to understand and act on the information they have, credibility refers to how useful and relatable the information is, and confirmation provides messaging that indicates that the issue has been resolved.
Each of these factors builds up the customer's confidence in their capacity to solve an issue on their own: They are going in the right direction, they have the right information, and they can ultimately resolve their issue.
By avoiding these five pitfalls, companies will be well on their way to delivering a more successful self-service experience for their customers.
Looking to revitalize your self-service channels? Let's talk. Book a meeting with our team today.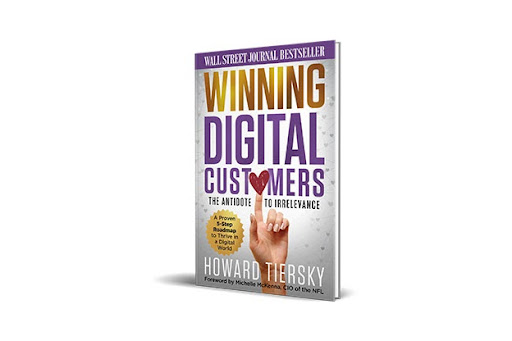 In my Wall Street Journal bestselling book, Winning Digital Customers: The Antidote to Irrelevance, I walk you through a simple five-step roadmap to drive a successful digital transformation within your organization. This is the methodology that I use to help my clients succeed in their digital transformation journey and win the love and loyalty of their customers. You can access the first chapter for FREE here or purchase the book here.
SUBSCRIBE to DX Weekly for more content each week to help you and your company succeed in the digital world.
Howard Tiersky is the founder of FROM, The Digital Transformation Agency where he works with leading brands on digital transformation.
Check out his Wall Street Journal bestselling book, Winning Digital Customers: The Antidote to Irrelevance.
Howard did an episode with one of the top 25 global thought leaders of 2021 and award-winning certified customer experience keynote speaker, Stacy Sherman, to discuss what companies may be getting wrong about customer experience, closing the feedback loop, and building trust through testing, analyzing, adjusting and repeating pilot programs. Listen to the episode here.
And of course SUBSCRIBE to this newsletter to make sure you stay on top of his weekly insights on digital transformation here on LinkedIn.