Insights |
By Howard Tiersky
The Death of a Giant: Bed Bath & Beyond's Downward Spiral to Irrelevance
Bed Bath & Beyond was once one of the largest homeware retailers in the U.S., with a network of over 1,500 stores across North America and net sales peaking at $12.3 billion.
After 52 years of operations, it looks like the end has come for the brand. Bed Bath & Beyond filed for bankruptcy in April 2023 after a steady decline in profits and mounting debt.
How did a retail giant go from market domination to financial ruin?
This article will examine the factors that led to the company's downfall and how other companies can avoid falling into the same fate.
THE RISE OF THE HOMEWARE "CATEGORY KILLER"
Founded in 1971 with a $50,000 investment, Bed Bath & Beyond gained retail success through a simple philosophy: sell name brands at a discount. This turned the company into a "category killer", in the same league as Toys "R" Us and Home Depot—superstores that offered more products and greater variety in their specific category.
The retailer operated on a tight budget, so instead of spending money on advertising and holding big sales to attract shoppers, they gave out coupons offering 20% off on any item. This coupon was known as the Big Blue, and it became an iconic part of their brand identity.
The high inventory-low prices strategy worked: In 1999, Bed Bath & Beyond crossed the $1 billion mark in sales and made a string of acquisitions throughout the 2000s, most notably Buy Buy Baby, Linen Holdings, and Cost Plus World Market.
THE DISRUPTOR BECAME THE DISRUPTED
The company's pre-digital success, however, failed to prepare them for the much stiffer competition of the digital era.
Amazon, which had been building up its category offerings and logistics network, was on its way to becoming an ecommerce giant. Other major retailers like Walmart and Target also started to expand their home goods section, and ecommerce home goods stores like Wayfair soon began encroaching on Bed Bath & Beyond's customer base.
While the company took some early strides toward digital—they launched their website in 1999—they didn't make substantial investments to deliver a superior online experience for customers. They failed to foresee how much of an impact digital would have on their industry.
Bed Bath & Beyond co-founder Warren Eisenberg admitted as much: "If you told me that some of my grandchildren will get all their dresses on the internet, I would say, 'People like to go out and shop. It's a social thing to do.' We didn't realize fast enough how the internet would have such a major effect on retail."
According to some of the company's investors, the first time executives mentioned Amazon in a conference call was in December 2016, an indication that the leadership was not in tune with rapidly evolving industry trends.
THE BIG BLUE PROBLEM
As the ecommerce race was heating up, Bed Bath & Beyond was facing another problem: their beloved 20% off coupon was eroding profit margins.
When the Big Blue was launched, the expectation was shoppers would go into a Bed Bath & Beyond to use their coupon on an item they were planning to buy. As they walked around the well-stocked, maze-like store, they could easily impulse shop and get more things.
However, customers eventually became accustomed to only going to stores if they have a coupon to use. As the Big Blue grew in popularity, buying items at full price became unappealing.
The company tried to stave off profit losses by pulling back on coupon mailings or lowering the discount rate but these attempts did not go over well with customers.
The coupons also became less effective in drawing new customers once online shopping took off. Shoppers could easily get the lowest prices by comparing products across different sites, and ecommerce retailers started offering price-match guarantees.
While the Big Blue was a good short-term strategy to attract customers, it was not a viable profit driver in the long term.
THE BELATED TRANSFORMATION AND EVENTUAL DOWNFALL
As sales steadily dropped year after year, Bed Bath & Beyond finally decided to undergo a major overhaul. In 2019, the company's two founders stepped down and Mark Tritton, the former chief merchandising officer of Target, was appointed CEO.
Tritton unveiled an ambitious three-year growth roadmap, outlining strategic initiatives aimed at rejuvenating the brand.
The plan included decisive actions such as the closure of underperforming locations, introduction of private-label brands, and remodeling of approximately 450 stores.The company also allocated $250 million to modernize their technology platforms and another $250 million to transform their supply chain infrastructure.
While Tritton's massive innovation program was already difficult enough to pull off, implementing it just as the COVID-19 pandemic hit proved to be extremely challenging.
As the pandemic triggered disruptions in the global supply chain, the company's own legacy supply chain infrastructure made it more difficult to stock already scarce products. Their store replenishment time was 35 days, and inefficiencies throughout the supply chain were driving high costs. Their ecommerce technology and processes were also not as advanced as their rivals, making them far less competitive at a time when purchases were mostly done online.
Pushing private-label brands, which worked at Target when Tritton was there, also proved to be unsuccessful as customers remained loyal to the known brands they were accustomed to buying.
In the end, Bed Bath & Beyond tried to do too much at a time when revenues were in decline and they were also facing external challenges. Profits continued to slide and the company could no longer keep up with debt payments, which led them to file for bankruptcy.

HOW CAN OTHER COMPANIES AVOID SUFFERING THE SAME FATE?
Bed Bath & Beyond's failure to meet customer expectations and adapt to the digital age serves as a cautionary tale for businesses today.
At our company FROM, The Digital Transformation Agency, we have witnessed the transformative power of investing in digital capabilities, conducting thorough customer research, and prioritizing initiatives effectively. By implementing these strategies, companies can stay ahead of the curve, deliver exceptional experiences, and achieve their desired business outcomes.
STAY AHEAD WITH DIGITAL
Jack Welch, the former CEO of General Electric, once said, "If the rate of change on the outside exceeds the rate of change on the inside, the end is near."
The digital era is a time of fast-paced change and rising expectations for greater convenience and personalized experiences. In this highly competitive landscape, companies not only need to transform, but they need to transform quickly. Failure to do so will most likely spell the end for them.
Bed Bath & Beyond's inability to embrace digital transformation early on was one of the crucial factors that led to their bankruptcy. At a time when ecommerce retailers were building up their digital capabilities and enhancing the online customer experience, Bed Bath & Beyond opted to remain focused on the brick-and-mortar strategy that worked for them for many years.
Instead of leveraging digital to deliver customer value in diverse ways, they stuck with their classic Big Blue coupons, which turned out to be a bane to their profit margins.
By the time they started their digital transformation, it was too late and the timing was terrible. The pandemic presented its own challenges, and the company's existing weaknesses in their infrastructure kept them from adapting to the "new normal".
Most companies, even those that are in traditionally non-tech industries like retail or construction, need to prioritize and invest in digital transformation as soon as possible in order to meet the rapidly evolving needs and preferences of customers.
Relying on old approaches just because they worked in the past is dangerous because they may no longer be effective in the digital age. Businesses that are digital laggards can be quickly reduced to irrelevance, and by then, it may be too late to turn things around.
KNOW YOUR CUSTOMERS
In business, the key to success lies in predictability rather than mere possibilities. Products that are based on a research-driven understanding of customers tend to be more predictable in terms of adoption and overall success.
A notable example is when former CEO Mark Tritton made the decision to shift from name brands to private-label brands, assuming that what worked for Target would work as well for his new company. Unfortunately, this strategy was built on Target's customer base, not Bed Bath & Beyond's, and it alienated customers who were loyal to big brands.
Customer research forms a critical foundation for designing an experience that drives desired customer behavior and achieves desired business outcomes. Without customer research, it's very difficult to accurately identify customer pain points, unmet needs, and areas within the experience that cause frustration.
At FROM, whenever we work with large brands to improve their customer experience, our first step is to conduct customer research. There are various research methods available, and one effective approach is observational research, which involves closely observing how customers use products or services and encouraging them to share their thoughts throughout the process. This method provides first-hand insights into customer needs, preferences, and challenges as they engage with the experience.
PRIORITIZE WHICH AREAS TO TRANSFORM FIRST
While it may be tempting to make all the changes at once, this approach often leads to disaster. Whether you're designing a customer experience or creating a product, prioritization is crucial in order for companies to allocate resources effectively and achieve goals.
Bed Bath & Beyond's ambitious plans to invest in digital capabilities, store renovations, and private-label brands proved counterproductive when pursued simultaneously.
To guide our clients in prioritizing ideas, we follow a five-step process:
Consolidate ideas: Gathering all proposed concepts in a central document allows for a comprehensive overview and eliminates duplication.
Define value: Assessing each idea based on the benefit it delivers for customers, the frequency of that benefit, the breadth of customers impacted, and its business impact helps identify high-potential initiatives.
Assess cost and effort: Evaluating the return on investment and required resources ensures realistic and sustainable transformation efforts.
Evaluate risk: Knowing the level of risk for each idea enables more effective risk mitigation and reduces roadblocks.
Define minimum viable product and roadmap: Determining the core features of a minimum viable product and laying out a plan for incremental improvements ensure that feasible ideas can be implemented sooner.
This prioritization process helps clients identify and focus on high-impact ideas with greater chances of success. Along with this, it's also important to assess existing resources, expertise, and infrastructure so that companies can have a more realistic view of their capacity to implement initiatives within a given time frame.
Limited capacity doesn't have to be an obstacle though. Organizations can expand their bandwidth by leveraging external teams for key functions like product development, strategy, and program management. At FROM, we have years of experience helping companies create digital strategies, design solutions to enhance the customer experience, and drive transformation across the organization.

IN SUMMARY
In the digital age, competition is fiercer and customer expectations are higher. In order to remain relevant, companies need to strengthen their digital capabilities early on, focus on the needs and preferences of their customers, and execute their transformation efforts in a strategic way. By committing to a customer-centric, digitally driven vision, they can better set themselves up for long-term success.

COMPANIES THAT WERE ABLE TO AVOID IRRELEVANCE
We've worked with dozens of brands to help them remain competitive in a fast-changing digital era. Here are a few of our success stories: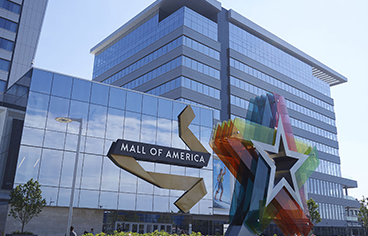 Mall of America
Mall of America, a popular shopping and entertainment destination for over three decades, was looking to leverage digital to provide their guests with an exceptional experience and strengthen their position in the retail space.
We worked with them to identify new business opportunities through digital channels. We also built core systems, touchpoints, and APIs to support their mobile app, website, wayfinding, and kiosks. Through these initiatives, Mall of America was able to deliver a cohesive digital experience as their guests moved through different touchpoints.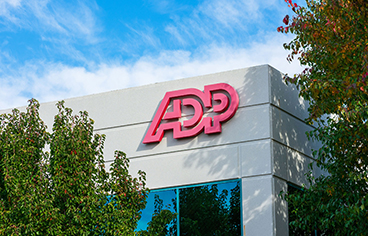 ADP
With customers expecting greater convenience and ease of use, ADP, a global provider of HR management solutions, saw the need to enhance the user experience of their flagship product for small- and medium-sized businesses.
We collaborated with them to conduct customer research, identify friction points, and map out a future-state customer journey that addressed issues in the existing customer experience. By focusing on the needs and pain points of users, we were able to build a modern, intuitive design for ADP's desktop and mobile applications that delivered a better experience for their customers.
Universal Orlando Resort
As Universal Orlando Resort was preparing to open one of their biggest attractions, The Wizarding World of Harry Potter, they realized that they had to prioritize a key digital tool: their website. The resort was expecting a surge in requests for information, merchandise, and tickets, and the site needed to handle this huge spike in traffic.
Our team at FROM assessed the capacity of their website and came up with a plan to reinvent their entire digital purchasing experience. We conducted user research, designed an interactive prototype, and built a highly personalized digital marketing and ecommerce experience that successfully converted site visitors into purchasers.

Need help getting started with your digital initiatives? Let's talk.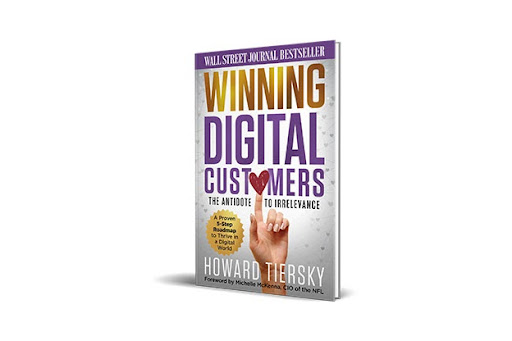 My Wall Street Journal bestselling book, Winning Digital Customers: The Antidote to Irrelevance, contains a blueprint for developing a successful strategy for your company as well as practices to aid in identifying new trends and opportunities to explore. You can download the first chapter for free here or purchase the book here.