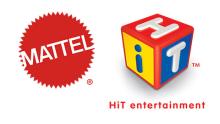 WORK
Games galore for Thomas & Friends.
Creating engaging play for our audience of pre-school kids and moms that is right on target for tablet and phone play and delivers value for the brand.
Kids today expect to play and engage with their favorite characters on every device in ways that leverage the innate characteristics of each platform. The level of sophistication and interaction that kids demand creates a high bar that we aim to exceed with each of our digital products.
Our strategic approach is simple and effective:

1) listen to your audience (in this case both mom's and kids)
2) know your content intimately (understand the characters, storylines and worlds as if you lived their yourself)and
3) use technology to create a unique kind of character experience that is on band and only possible using that format.
Partnering with Hit Entertainment and Mattel we have launched a series of award winning and beloved apps for characters such as famous as Thomas & Friends and newer brands like Mike the Knight and Fireman Sam.
A few of our top apps include:
Spills & Thrills is an app created to pair with the yearly tentpole DVD release to support the new brand direction
King of the Railway app was another app that included a multi-game pack for mom's to know they were getting a value in their purchase and for kids to have many ways to play with different difficulty levels to hook and retain kids of all ages.
Lift & Haul is an app that delivers the exact character engagement that makes kids love the Thomas brand and gameplay focuses on the engines daily activities including lifting and hauling gravel, cutting and sorting stones, playing hide and seek, and readying themselves for another exciting day of work.