Why 84% of Digital Transformations are Failing
Everywhere I look these days, companies are showing off their digital transformations.
In fact, according to KPMG's Global Transformation Study, over 90% of polled companies have completed a transformation in the last two years.1 Not all digital, of course. The same study admits that less than half of the executives believe their initiatives will reach and maintain the value promised.
Surprised? Me neither. Second only to reports on what "digital" really means is content on how many digital transformations outright fail and why. For example, Forbes says, "84% of Companies Fail At Digital Transformation."2 A recently published Harvey Nash/KPMG CIO Survey points out that only 41% of companies have an enterprise wide digital strategy, and only 18% of companies rate their use of digital technology as "very effective."3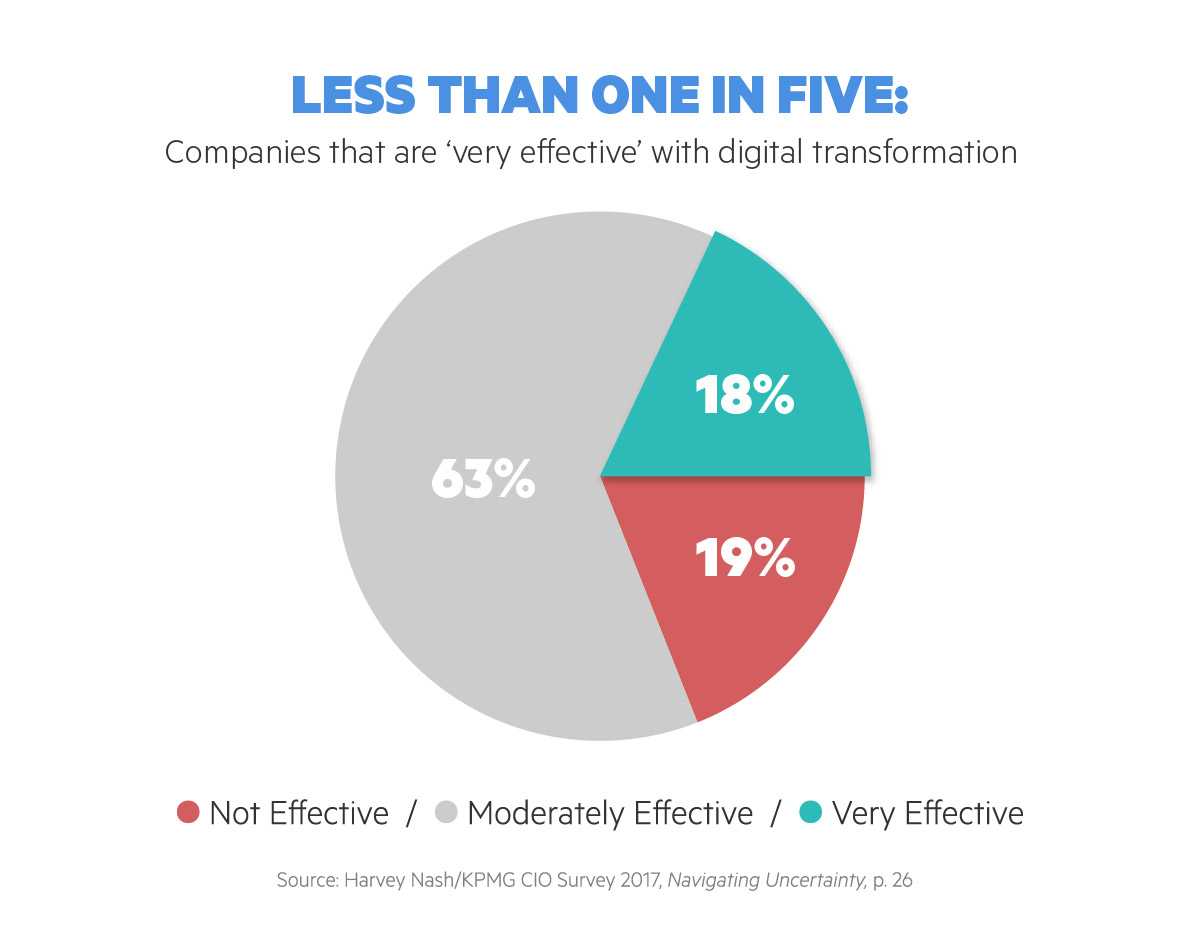 I get it. It's hard. But is it worth it?
Of course it is, says a Harvard Business School study4 published by Professors Marco Iansiti and Karim Lakhani. They studied large companies and enterprises (>$3.4b) in the Consumer Packaged Goods, Financial Services, Manufacturing and Retail Industries and concluded that the use of digital capabilities and the advantage afforded by them is more than uneven. They suggested a "Digital Divide" is emerging between the top 25% digitally mature companies (Digital Leaders) in each industry and the bottom 25% (Digital Laggards). The chart shows a gross margin difference of 18% between the haves and the have-not's and concludes that this divide is growing as "Digital Transformation has become the new normal."

And, of course, to do nothing is not the answer either, as Cisco published their "Digital Vortex Study," where "…executives believe an average of roughly four of today's top 10 incumbents (in terms of market share) in each industry will be displaced by digital disruption in the next five years."5
Our own clients are making hay with their digital transformations. Some we have launched with them, while others were underway and we were asked to assist them in enhancing their programs. When asked to help a challenged program, we assess why the results were not as expected, and we perform a similar analysis for the successes.
In both cases, there are several commonalities:
Focus on the Customer: One client in the travel industry in particular has seen an ROI of over 100% in less than 12 months on their digital experience initiatives.
Culture of Innovation: Understanding that the culture must accept testing, feedback, and optimization is key to innovation becoming part of the employee DNA.
Prioritization: Many of the programs we have helped had too much work to accomplish and that work was not ideally prioritized.
Sponsorship and Alignment: Organizations that don't work horizontally across silos can end up with small line of business based initiatives that dissipate into the larger organization.
Strategy and Vision: Codifying the digital strategy helps with alignment, organizational change and efficiency.
Digital Technology: Advancements in technology can make digital capability visions obsolete and providing a platform for APIs and interconnectivity increases success.
Focus on Data: Digital processes create data and understanding the plan for the organization to get to quality data across and beyond the enterprise is key to driving benefits.
Does your digital transformation take into account these risks and critical success factors? I'd love to hear from you.
---