News |
Published 12.16.2016
Launching a Public Art Event and Education Website for the University of Texas
For over ten years, FROM has provided multi-award winning digital strategy, design, and technology for Landmarks, the public art program at the University of Texas. Landmarks mission is to enrich the lives of students and visitors to the 433 acre Austin campus, through the display of over thirty-five major works of modern and contemporary art.
The website plays a crucial role in scholarship and education, supporting the artwork through promotion of events and enhanced digital content, expanding the narrative around the artwork. With a recent acquisition by Marc Quinn and major commissions of works by Ann Hamilton, Ben Rubin, Casey Reas, Nancy Rubins and James Turrell, the world-class collection continues to grow and evolve along with the website.
"FROM has played a tremendous role in defining and delivering an elegant digital platform for Landmarks. Their efforts inspire our audiences to attend public programs and engage with great art." - Andree Bober, founding director of Landmarks
This week the website relaunched with a refreshed homepage featuring full screen video, a newly dynamic events section, and an updated virtual tour, in addition to enhancements to all areas of the site, to support the needs of the evolving and dynamic art program. The design and user experience follows the minimalist brand identity, and strict accessibility standards required by the diverse university audience.
The virtual tour allows users to see all of the art across the campus via a customized google map that reveals corresponding images and descriptions, with links to the artworks detail pages for more information including downloadable audio tours of the campus-wide exhibition.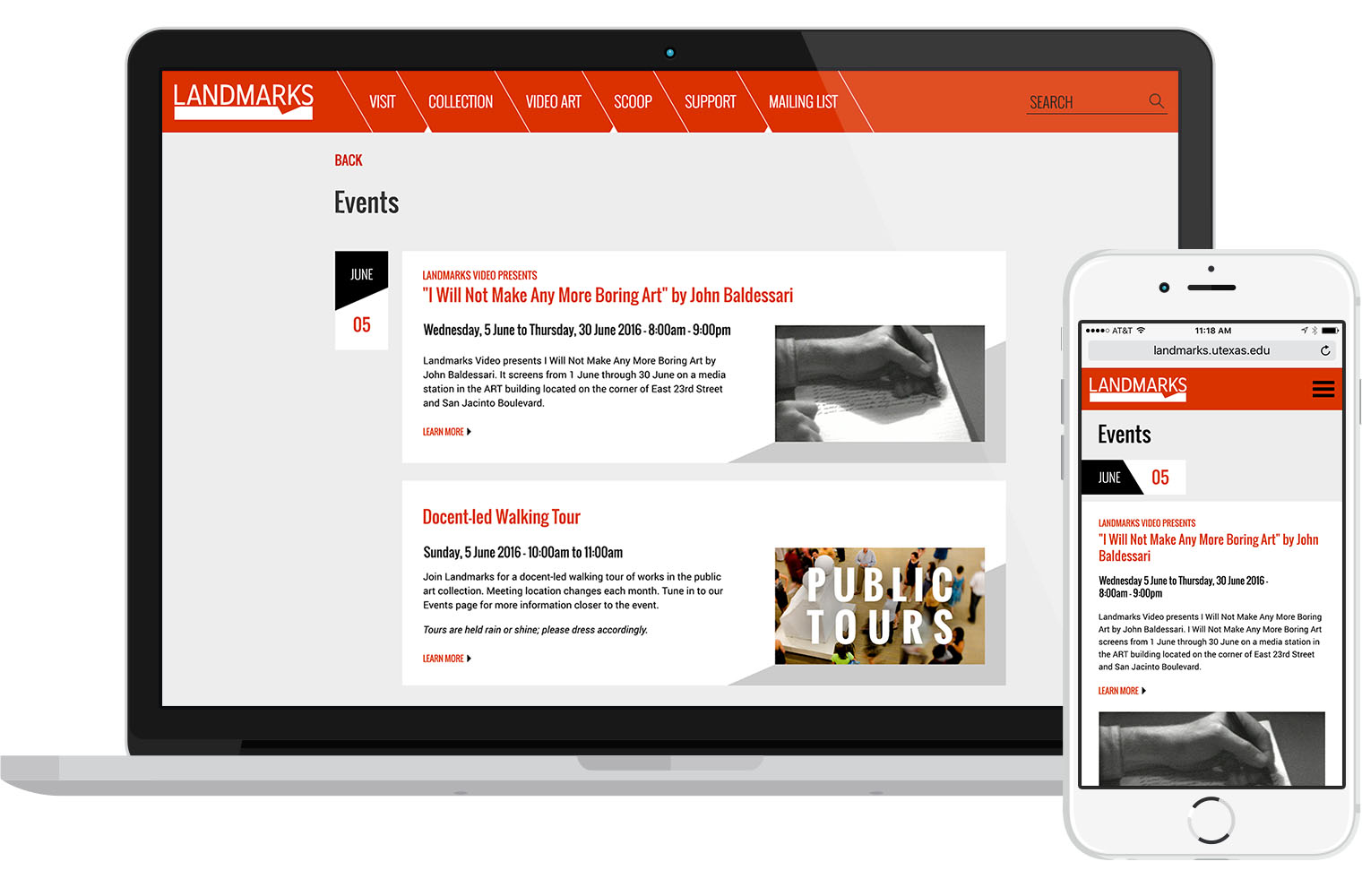 Since its initial launch, The University of Texas at Austin Landmarks Public Art Program site has garnered multiple honors, including Interactive Media Awards Best in Class (Arts/Culture), two Silver Davey Awards, Gold and Silver W3 awards, and a Gold Horizon Interactive Award.
In addition to the Landmarks site, FROM designed the university's Skyspace by artist James Turrell. This prize-winning, stand-alone companion site provides general information about visiting the space and includes a robust reservation system for coveted seats to the daily Sunset Light Sequence.