Insights |
By Howard Tiersky
Why Lying About ROI Is Both Detrimental and Also Often Necessary When Pitching Digital
Businesses are usually impatient to see rapid return on any investment, but promising the impossible puts you in an unsustainable position
In order to get funding for a new initiative, sponsors often have to demonstrate large and "certain" return-on-investment. But the truth is that the future is far less predictable and many of the most successful products actually take some time and evolution to really reach their potential. Bottom line, what this means is that many executives are fibbing or at least exaggerating about the timeline to success when pitching their projects.
UNREALISTIC EXPECTATIONS
Large corporations are typically inclined to believe in short-term success. Many executives like to buy into the narrative of overnight success—how companies appear out of nowhere and take the world by storm. Of course, overnight success is really just an illusion. In reality, it takes years of hard work to succeed "overnight."
The problem is this tends to create unworkable expectations and targets. As a result, most companies aren't willing to keep on putting money on an effort without seeing near-term return on their investment, which often leads to early stage efforts that are on their way to success being abandoned.
When the market's not moving as quickly as they want to, they pull the plug on the initiative, fire the executive in charge, and hire another with a new plan.
It's the story that we see over and over.
But sometimes, we just haven't been at it long enough.
Your customers might have only just started to hear about your product and get ready to change their behavior but you've decided to rip your strategy off the shelf.
It takes a lot of perseverance to make people notice and understand how our value proposition fits into their lives.
It's this persistence of vision that makes an "overnight success" possible.
ZERO PROFITS FOR THREE YEARS
Skype, Airbnb and Venmo are perfect examples. These are companies that supposedly have experienced a meteoric rise to prominence.
But the truth is, they all had to endure extended periods of zero profits before finding success.
Interestingly, for all three companies the dark, uncertain periods lasted almost the same length of time.
They each spent about three years in complete wasteland in pursuit of market acceptance, without any sign that they were certain to find the answer.
It took Skype three years to get to twenty thousand users.
For a product like Skype that depends heavily on the "network effect" - where the value of the network is exponentially correlated to the number of active users - this slow growth was grueling, especially in a world moving in "Internet time."
Jonas Kjellberg, co-creator of Skype, described this period in Skype's history, "We had no money. We couldn't mortgage our houses anymore. We were fighting some of the biggest telcos in the world. I think we thought we would never get through; we would just get by another day and see where this takes us."
Airbnb had a similar path. After several years in the market, with multiple founders working full time, the site was only making around $200 per week in revenue.
At one point they needed money, and this was during the election between Obama and McCain, so they decided to design novelty cereal boxes with a cartoon Obama on them.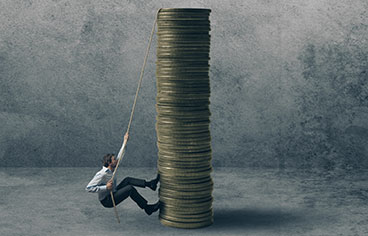 And then they went to the grocery store, bought Cheerios, took the actual cereal with the inner lining, put it in their own Obama box, and sold them for $15 each.
Co-founder Joe Gebbia said this was their little side gig while they were trying to get the company going.
Venmo's Iqram Magdon-Ismail described his early startup days when they would look for restaurants that would be willing to trade free food in exchange for web design services, since they have maxed out all their credit cards trying to pay the bills.
Things got a little easier after they received $5 million in "real" seed funding, but even after three years, they still had only 5,000 active users, and their seed funding was almost depleted.
Worse, they were forecasting costs over the coming year to be more than $30 million.
At that point, they started the process of shutting the company down, before their fortunes changed at the last moment with an unexpected acquisition offer.
AVERSION TO LOSS
None of these companies had any reason to think that it was going to work other than their sheer persistence of vision, demonstrated not just through setting aspirational goals, but by the commitment to wake up every morning for the next two, three, or four years and keep at it.
If Airbnb, Venmo and Skype gave up on their vision too quickly, they would not have become the billion-dollar companies that they are now.
We never heard about them when they were still grinding, mortgaging their houses, and living on Ramen noodles while trying many failed experiments.
But the longer they persisted, the more it became likely that something favorable would happen.
And guess what? They did get the breaks they needed to hit that hockey stick curve and things started to take off.
Sadly, their success stories will remain a rare phenomenon.
There's hardly a board or CEO in corporate America that will want to go through the flat part of that hockey stick if it means three straight years of losses.
Ultimately, it's the companies' aversion to loss that stops them from putting in the persistence necessary for success.
Aversion to loss kills many beneficial investments in transforming your business as well. I've written a book called Winning Digital Customers: The Antidote to Irrelevance and it's a step-by-step guide for overcoming the many challenges in making the transformation needed to succeed in today's digital world.
Get access to the first chapter for free at https://WinningDigitalCustomers.com.