Insights |
By Howard Tiersky
User Experience is Just the Tip of the Iceberg
Most companies recognize that creating a seamless and unique customer experience is key to success in the digital world, but that's not always easy to do. How can you deliver the optimal digital experience to your users?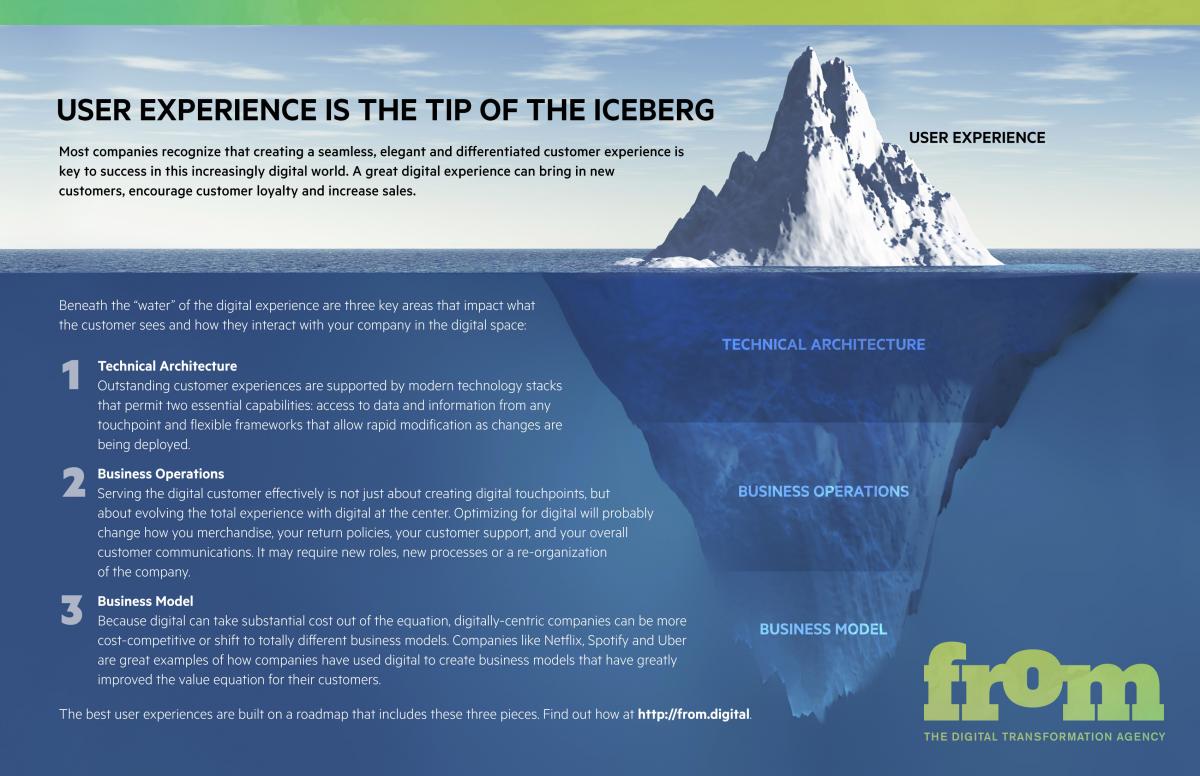 If you've ever been to the arctic circle, there are icebergs that are not only acres wide, but that rise hundreds of feet above sea level — truly massive objects. Yet what is perhaps even more amazing is that scientists tell us that almost 90% of a typical iceberg's mass is underwater, and not visible to from the surface. If you are in the "iceberg business" — studying them for science or cutting through them for ships to pass — it's quite important to understand not just the visible component, but the full scale and depth of the iceberg.
Similarly, most companies now recognize that creating a seamless, elegant and differentiated customer experience is key to success in this increasingly digital world. Defining that optimal experience is not necessarily an easy task. In fact, it can seem like a huge undertaking, and at FROM, it's something that we spend a large portion of our time working with clients to optimize.
But we also see many companies struggling to execute on delivering their customer experience vision. There are many reasons for this, but a starting point of success is realizing that excellent customer experience is more than meets the eye. While concrete manifestation of the experience is found in the brand's digital properties, content, and features, this is just the part of the iceberg that sticks up above the water. Beneath the waterline is three additional supporting elements that must also be effectively managed in order to achieve an excellent customer experience and the associated business outcomes.

1. Technical Architecture
Outstanding customer experiences are supported by modern technology stacks that permit two essential capabilities:

Access From Any Touchpoint
Great customer experiences have the flexibility of touchpoint, and permit you to not only interact via web, phone, mobile, kiosk or other devices but have all actions instantly updated and available in a consistent manner. An example of what not to do: I placed an order on HomeDepot.com and immediately realized I made a mistake. I wanted to cancel it, but due to technical constraints, you can't cancel orders on the website, only from the call center. So I called the call center, and they told me they wouldn't be able to "see" my order (and therefore weren't able to cancel it) for about an hour when the systems synchronize, and I should call back then. Not a great or accessible customer experience.

Flexible Frameworks
Flexible frameworks have the ability to be modified rapidly along with the changes that are being frequently deployed. The number one secret to how great customer experiences got to be great? It's not by having a genius team that gets it right the first time; it's through an iterative process of testing and learning. To do that, you have to be able to efficiently code, test, and iterate or kill new ideas quickly. Furthermore, the frameworks for presentation, business logic, and transaction processing need to be flexible. If user testing shows that changing the sequence of information collected from users during a checkout process might improve conversion, you need to be able to make a change like that reasonably simply. We often see companies with aging mainframe-based "back office" systems that are holding them back from being able to re-engineer their customer experience because "that's not how the legacy system works." No matter how much pain, companies in this situation need roadmaps to upgrade, redesign or replace these inflexible systems to permit the creative evolution of their customer experience.

2. Business Operations
Serving the digital customer effectively is not just about creating digital touchpoints, but about evolving the total experience with digital at the center. That means you will need to change the way you do business in a variety of spheres. Customers who use online chat to ask questions expect answers far faster than those who email, let alone those who send in snail mail. Digital customers opening an account at your bank don't want to have to wait to receive a thick packet of forms in the mail that they have to sign in 17 different places. You may want to offer digital customers alternatives in "out of stock" situations (such as a direct ship) or permit them to customize their purchases in ways that weren't previously possible. Truly optimizing for digital will probably change how you merchandise, your return policies, your customer support, customer communications, and, well, everything. It may require new roles, new processes or a re-organization of the company.

3. Business Model
One of the benefits customers see from digital is a huge improvement in the value equation. Skype has taken our long distance bill from hundreds of dollars to pennies. Spotify has given us access to practically any song ever recorded for a few dollars a month, and Netflix has done the same for movies. In many markets, Uber has halved the cost of a taxi. This is awesome for consumers, but threatening to incumbents whose business models are dependent on the pricing levels of legacy business models. Jeff Zucker, the former CEO of NBC, echoed this concern a decade ago when he bemoaned having to trade "analog dollars for digital pennies."
Why are some companies able to offer consumers a "better deal?" Because digital can take substantial cost out of the equation, allowing more digitally centric companies to be more cost-competitive or shift to totally different business models (subscription access to huge content libraries instead of one by one DVD rental in the case of Netflix; offering the largest ground transportation fleet in the world without ever buying a single vehicle in the case of Uber; likewise eBay and Alibaba, two of the largest online stores, both of which stock no inventory.) You can have a great website and app, but if the fundamental value equation of your business is no longer competitive, you are going to struggle.
Digital started out as a means of communication. We then had the era of eCommerce, where we "bolted on" digital alternatives to access the same inventory and offers available in our non-digital channels. But today, the winners are "digitally-transformed" companies that are offering a digital value proposition and have a technology stack that empowers them to create a great customer experience, and the business processes necessary to support and deliver on it.
It may seem like a lot. And it is. The world is changing fast, and the companies that succeed in the future will be those that make the transition. The ones that don't will wind up on the list with companies like Kodak, Polaroid, BlockBuster, Sports Authority, Borders, Linens and Things and Circuit City. You can use this as a high-level roadmap for what you need to do to keep up with the digital transformation era. If your formula is not working yet, ask yourself which of these three areas you might not be paying enough attention to, or adapting quickly enough.