Insights |
By Howard Tiersky
THE KEY TO UNDERSTANDING YOUR CUSTOMERS: SNOWFLAKES
Driving the behavior of your customers and prospects is key to business success. And in order to drive the behavior of all those people you need to understand some key things about them.
But you may have thousands or even millions of customers and prospects, and just like snowflakes every one of them is completely unique.
How are you supposed to understand all of those people?
Well here's some good news.
Yes, like snowflakes, they are all unique.
BUT, also like snowflakes many are extremely similar.
So by grouping customers into a manageable number of similar segments, it becomes much easier to identify what their needs are and find ways to serve them effectively.
HIGHEST LEVEL SEGMENTATION: SHOULD THEY EVEN BE A CUSTOMER?
Not every human on the planet even belongs in one of your segments.
So there should be certain characteristics that define whether someone would be a likely customer at all.
For example, you may have products only for women, or you may only sell in North America, or perhaps you provide services primarily to large businesses or to startups.
Define the criteria that include or exclude someone of interest to your company as a potential customer.
CREATE HIGH-LEVEL CUSTOMER SEGMENTS
The next step is to document the most fundamental different types of customers that your business interacts with. We call these "segments."
Here's a simple example to demonstrate this. Microsoft customers fall into three primary categories: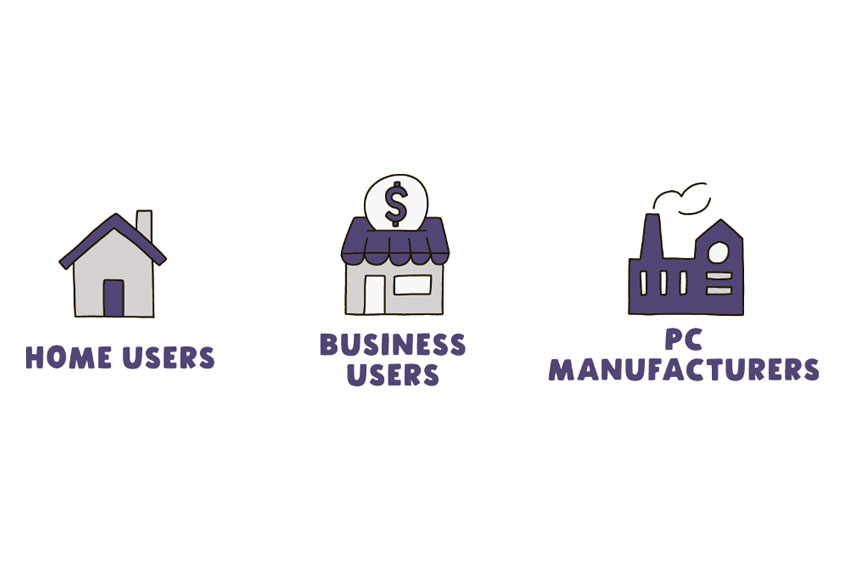 Microsoft sells products to individual consumers, such as Surface Tablets and X-Boxes.
They also develop and market enterprise software and cloud services for the business market, and then there are PC manufacturers like Dell who pay Microsoft on a wholesale basis for installing MS Windows on the PCs they sell.
What would be the equivalent high level segmentation for your business?
BREAK DOWN THE SEGMENTS FURTHER
Each of these high-level segments can most likely be broken down into some more discrete subcategories as shown below.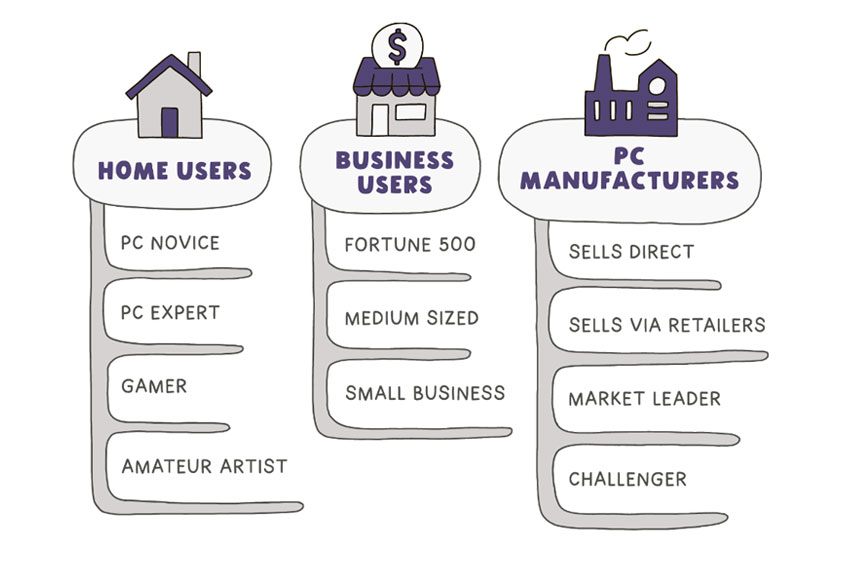 Create an equivalent model like this for your business. At this stage, don't worry if your model is not 100% precise.
Focus on documenting the simple distinctions between customers that your company is already aware of.
Also include any segments that you are not selling to today but that are a near-term target.
DIMENSIONS OF CUSTOMER SEGMENTATION
Creating a basic segmentation model like this is the first step to grouping like customers together so you can understand them, but it's just a starting point.
Customer traits don't really exist in a strict hierarchy, so it's more precise to think of customers as having a variety of dimensions.
For example, "Home Users" is a top-level segment of Microsoft Users, and its subcategories relate to the customer's experience with Microsoft products (PC Novice versus PC Expert). That's one dimension.
But we also have other options that relate to a different factor. Sub-segments of "Gamer" and "Amateur Photographer," are more indicative of how the user will utilize the product.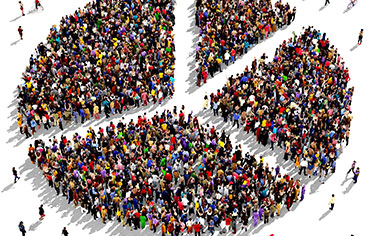 And your customers have a variety of other dimensions that distinguish them from one another, like gender or age.
"Characteristics" are the choices that exist within each dimension.
For example, within the dimension of gender, female and male are characteristics.
Within certain dimensions such as age, we use characteristic groupings like 18-25 years old, 26-40 years old, etc.
Take a stab at identifying the dimensions and characteristics that are the most significant for your business.
In other words, if the way you interact with your customer varies in important ways based on whether they own a home, then you probably need to be thinking about customers differently based on whether they are renters or homeowners.
In contrast, if geographic location is unimportant, then there's no point in spending time making sure you study customers in every state or country you do business with, some can represent all.
How many dimensions are there? The theoretical list is unlimited.
Here are some common categories of customer dimensions that are relevant to different types of business: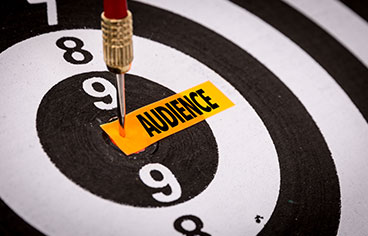 Once you have defined these segments and dimensions, they can be used in a variety of ways.
Research: Customer research is a key tool to gain the insight you need about each discrete customer segment.

Once you have defined your customer groupings, you know who to go after to gather more insight.

Product Development: You may have some products that are designed for only one of your segments or customers with certain dimensional characteristics.

Having a clear segmentation model can sharpen your process of defining product goals and characteristics.

Marketing: Different customers may respond differently to marketing messages based on their segments or dimensional qualities.

Once you understand the most important differences, you can put processes in places to target different marketing messages to different customers based on their different characteristics.
In this way, you can divide a universe of seemingly infinite variety into some practical groupings that both recognize many of the important distinctions between different customers but also their similarities that you can then use to efficiently guide your business.
My Wall Street Journal bestselling book, WINNING DIGITAL CUSTOMERS: THE ANTIDOTE TO IRRELEVANCE, provides a detailed approach to identifying who your customers are and then gathering and synthesizing research insights to yield a rich understanding of them. The book itself is a blueprint for earning love from today's customers, which is the single most important factor in the success of your business.
You can download the first chapter for free at https://WinningDigitalCustomers.com.