Insights |
By Howard Tiersky
How Starbucks Made Ordering Coffee a Digital Innovation
Starbucks started out as a pre-digital company that sold roasted coffee beans. Today, they're the world's largest coffee chain and a leading industry innovator that created one of the most successful mobile ordering applications of all time.
This success story did not come easy. In fact, it started in the wake of a worldwide economic crisis.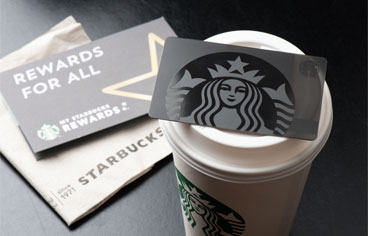 INNOVATING THROUGH A GLOBAL RECESSION
Starbucks was one of the many companies that took a hit during the 2007 financial crisis. As customers opted for cheaper coffee options, the company's profit dropped by 28% and they were forced to close 900 stores.
The business needed a reboot, and they realized that the most impactful way to do it was to transform the customer experience.
The company analyzed their customers' spending habits, and they noticed a surprising trend: a majority of Starbucks gift cards were not actually given as gifts but instead used by the people who bought them. Since a gift card is reloadable, it turned out to be a convenient payment method.
This insight eventually led the company to create the Starbucks card, a membership and loyalty card that served both as a payment method and a tool for rewarding regular customers. People who enrolled in the rewards program were able to get free drinks and other perks when they used the Starbucks card to pay for purchases.
By tying rewards with the payment card, the company was able to spur broader adoption of their in-house payment method while also deterring customers from using credit cards. Retailers like Starbucks are charged a swipe fee whenever a customer uses a credit card at checkout; having their own payment system spares them from these processing fees.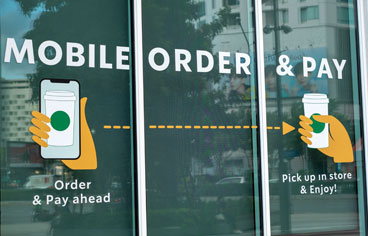 FOCUSING ON DIGITAL CONVENIENCE
In 2011, the Starbucks Card became digital when the company launched their mobile payment app.
Rolled out three years ahead of Apple Pay, the Starbucks app became the largest mobile payment program in the U.S. at the time, recording more than 26 million transactions in its first year.
Starbucks also brought digital pre-ordering into the mainstream by adding the "Mobile Order and Pay" feature to their app. This allowed customers to place and pay for their order in advance and pick it up at the nearest Starbucks location.
To further enhance the convenience of ordering, the company introduced "My Starbucks Barista" in 2017. This app feature lets customers place their order and customize their coffee just by speaking, replicating the real-life experience of talking to an actual barista.
Starbucks also launched a reorder function on the Amazon Alexa platform, which lets customers order their usual food and beverage items through a voice command on their Alexa device.
Delivering a memorable customer experience has always been a cornerstone of the Starbucks brand, from providing good-quality coffee to creating the "third place", a comfortable space outside the home and workplace where people gather, have a good time, and build a sense of community.
The traditional ordering and payment process, however, was still rather tedious, especially during peak hours when people had to line up and wait to place their order, and then wait again while their coffee was prepared. By using digital tools such as a mobile app, Starbucks was able to allow customers to get their coffee the moment they walked into the store.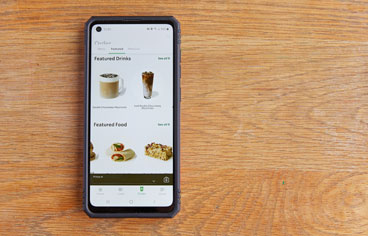 PERSONALIZING EACH CUSTOMER EXPERIENCE
Another competitive advantage of Starbucks has always been the ability to make customers feel special by allowing them to design their drink, customizing each ingredient according to their personal taste.
This intense focus on delivering a personalized experience was amplified through digital when Starbucks integrated it as a key element of their mobile app.
The Starbucks app presents users with a list of every possible modification they can make to their drink, from the choice of sweetener and creamer to drink toppings. Customers can then save their custom drinks for an easier reorder the next time they want the same drink.
The company goes further by using data analytics to make personalized recommendations and targeted deals for customers.
Based on a user's past orders and purchase patterns, the app provides tailor-made offers, recommends new products they will potentially like, and even shows customized reminders.
For instance, if a customer usually orders a macchiato on Wednesdays but misses a week, the app shows a notification inviting them to order their usual drink with double the reward points.
Through the power of digital solutions, Starbucks was able to take an already strong element of their customer experience and make it even more compelling and rewarding for customers.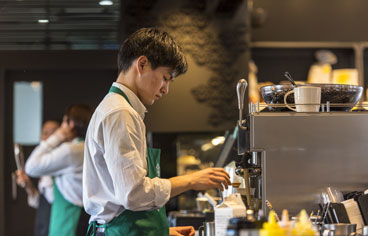 DRIVING OPERATIONAL EFFICIENCY THROUGH ARTIFICIAL INTELLIGENCE
Besides creating a mobile app to enhance customer experience, Starbucks also leveraged digital innovation to improve their operations.
In 2019, the company launched an AI engine to help with time-consuming tasks such as inventory management, preventive maintenance of coffee machines, and staff scheduling.
AI technology is also instrumental in helping the company identify new locations for their stores based on variables like traffic, income levels, and competitor presence. This capability makes it easier to forecast profits and avoid cannibalization, ensuring that each new store captures enough customers without negatively affecting the sales of existing Starbucks locations.
With these innovations, the company was able to make operations more efficient, pinpoint growth opportunities while minimizing risk, and better focus their efforts on delivering an outstanding customer experience.
BREWING DIGITAL SUCCESS
Starbucks' customer-focused digital transformation strategy paid off. Their rewards program now has nearly 28 million members in the U.S., and their app is the second most popular mobile payment tool, surpassed only by Apple Pay.
The company's global revenues grew from $9.4 billion in 2007 to $32.3 billion in 2022. This is a testament to the robust customer loyalty they've built up by delivering an impactful user experience.
CAN YOUR COMPANY'S TRANSFORMATION SUCCEED LIKE STARBUCKS?
Is this level of success only possible for one of the most recognizable brands in the world? Or can other businesses also drive their own transformation and become dominant players in the digital age?
At our company, FROM: The Digital Transformation Agency, we collaborate with many large organizations like Avis, NBC, Transamerica and Airbus to help them develop customer-centric digital solutions and achieve outstanding transformational results.
In our years of extensive research and experience working with successful brands in the digital space, we've identified the three key ideas they focus on in order to gain true customer loyalty.
We call these three factors hyper-convenience, proactive personalization, and massive value shift, and we'll explain below what each of them means. We will also provide steps on how companies can deliver them to customers.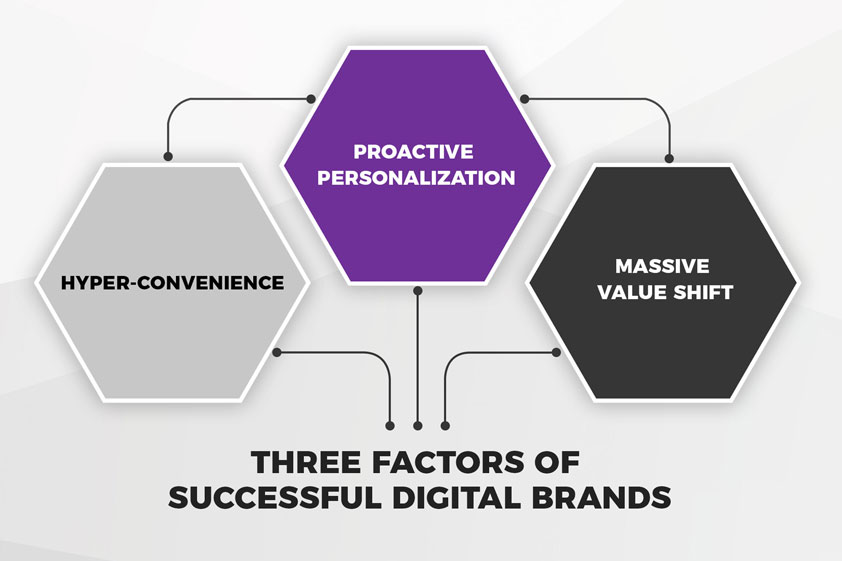 1. HYPER-CONVENIENCE
Hyper-convenience is about providing customers an extremely high level of ease, making it easier for them to get what they want, when and where they want it without exerting much effort.
Starbucks delivered this through their intuitive, user-friendly app that eliminated the hassles of standing in line at the store, explaining one's coffee order to a barista, taking out cash or a credit card to pay, and checking the needed reward points to avail of discounts and freebies.
There are three key attributes of hyper-convenience: first is speed–reducing the time it takes to complete a transaction; second is ease–minimizing the effort a customer exerts to get what they want; and finally, accessibility–allowing customers to avail of a product or service wherever and whenever they want.
The first step to achieving hyper-convenience is to study the customer's current experience, which can be achieved through a range of methods including data analysis as well as ethnography—a process of observing customers while they are engaging with the company's products or services.
FROM has a range of scientific methods we use to record this data and derive key insights. The goal here is to pinpoint areas in the customer experience that cause delays, errors, or frustration, and identify repetitive tasks that can be automated or sped up.
Once these insights have been identified, at FROM we use a variety of ideation methods to generate and test solutions designed to remove pain points, reduce or even eliminate wait times, and make transactions faster and more seamless for customers.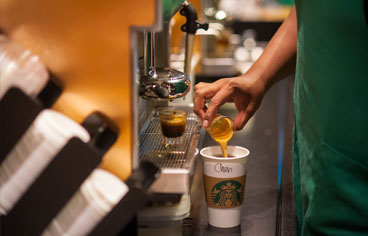 2. PROACTIVE PERSONALIZATION
Starbucks knows that a personalized customer experience is more than just giving people their custom drink. It's also about predicting what they'd like to order, when they want to consume a specific drink, and how they want to pay for their purchase.
This type of intense focus on delivering a tailored experience for each customer is called proactive personalization, and it's visible in the experiences of all leading digital brands, like Amazon, Facebook, Google or Netflix.
To deliver this level of personalized service, companies need to look into their customer data, which include people's buying behavior and the information they often provide in the course of their interaction with the business.
The next step is to use this data to create customized experiences such as providing product recommendations based on a customer's past purchases, offering deals that are aligned with their spending habits, and allowing them to customize a product they're buying according to their personal taste.
FROM's data scientists work every day with our clients to continue to refine how data is used to create a more effectively personalized experience for their customers.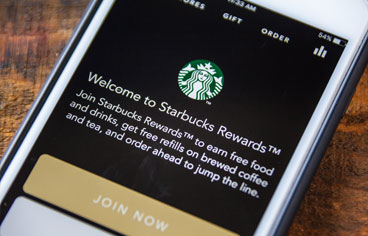 3. MASSIVE VALUE SHIFT
Value shift is about providing fundamentally better deals for customers, giving them more benefits while lowering cost. While cost obviously starts with the money they spend, it is also measured in terms of the reduced time and effort it takes to extract the benefits of a product or service.
Starbucks was able to deliver substantial value for customers in a strategic way by making use of data analytics and AI. These tools allowed the company to identify repeat customers and determine the types of rewards that would be most appealing and beneficial to them.
Then through their mobile app, Starbucks made it very easy for these loyal customers to access freebies, discounts, promos, and other perks.
Other companies can also deliver more value by determining who their best customers are and what benefits they can provide to those who regularly engage with the business. With this strategy, they can offer better deals to their customers while still driving revenue growth.
Implementing initiatives in all three areas can be overwhelming, and companies don't need to do so. They just have to focus on the factors that will deliver the biggest impact on their customer experience.
MORE EXAMPLES OF SUCCESSFUL INNOVATIONS
At FROM, we have worked with many large companies to launch digital solutions that helped them achieve success in the factors discussed above.
Here are three success stories:
Similar to Starbucks' highly convenient way of providing coffee, Avis wanted to make the car rental experience quicker and easier for customers. FROM helped Avis build QuickPass, a fully digital rental service that allows users to skip the lines on the rental counter and manage their booking instead in a mobile app. With QuickPass, customers can modify their reservation, choose their preferred car, and get on the road faster via the Express Exit QR code.
While proactive personalization can make customers feel special, it can also help people do their jobs more efficiently. Take the case of ADP, a leading provider of HR management tools. Their payroll platform often overwhelmed first-time users who actually didn't need all the features that the tool offers. FROM helped ADP create a more streamlined design that allows greater customization. Users with simpler payroll needs can customize the tool to only show the features they need, while customers with more complex requirements can just as easily access advanced functions.
Aside from free coffee, better customer value can also be delivered through engaging content. When the History Channel released a documentary series on the history of football, FROM worked with them to launch an accompanying website that featured episode recaps, videos, photos, quizzes, polls, and social media tie-ins that made the audience experience richer and more interactive.
Thinking of how you can transform your business into a successful digital brand? We're here to help.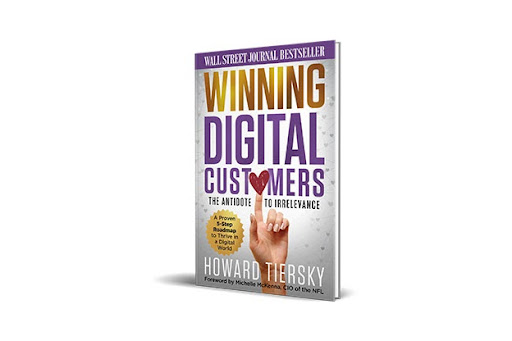 My Wall Street Journal bestselling book, Winning Digital Customers: The Antidote to Irrelevance, contains a blueprint for developing a successful strategy for your company as well as practices to aid in identifying new trends and opportunities to explore. You can download the first chapter for free here or purchase the book here.