Insights |
By Howard Tiersky
Digital Trends From the 2021 Holiday Shopping Season
The holidays may be over, but there's some interesting and perhaps surprising insights to gain from looking at this year's omnichannel holiday shopping trends.
AFTER YEARS OF STEADY GROWTH, E-COMMERCE INTENT DECLINED
For a number of years, several independent studies have asked shoppers in advance of each holiday shopping season whether they planned to primarily shop for gifts online or in stores.
Back in 2015 e-commerce was polling about 15% points behind the in store experience. By 2017-18 they were polling about even, and over the last few years e-commerce has won out.
During the 2020 holiday season, mid-pandemic, we saw the highest growth in e-commerce intent ever, a jump from 54% intending to shop primarily online to 61%—no doubt driven in part by concerns of contagion at the physical stores.
This past holiday season, we saw some "retrenching" on those numbers and for the first time since these longitudinal studies have been conducted we saw a decline in the percentage of shoppers intending to shop for gifts primarily online, as visible in the graph below, which is based on data from PWC but which is corroborated by similar data from the National Retail Federation.
I predict we will see this number tick back up again next year and that this is simply a correction that reduces the "COVID effect" seen in the 2020 numbers.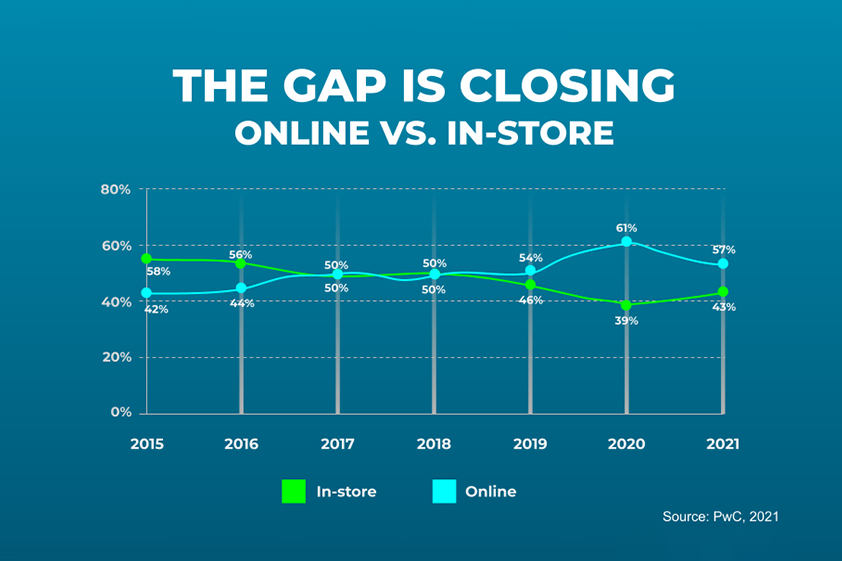 OVERALL RETAIL HOLIDAY SALES ARE UP FOR 2021
Total holiday retail sales (online + offline and including gifts but also other retail purchases including groceries), have increased year-over-year every year over the past five years.
In 2020, even mid pandemic, the growth was a reasonable 6%, and this year, with the economy and mindsets about COVID improved, the growth was over 9%.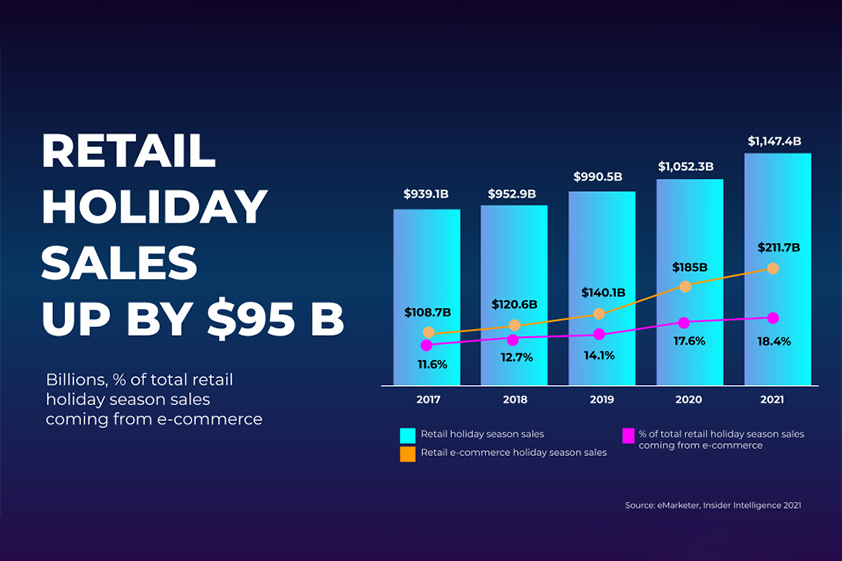 Unsurprisingly, e-commerce sales are also up with year-over-year growth of 14% total dollars, however consistent with the intent information discussed earlier, the growth is slower than in 2020 when the growth was more than double at 32%.
Total holiday e-commerce shopping represented 18.4% of the total in 2021, and based on the intent data discussed previously, that suggests that while e-commerce may be winning on gift purchases, brick and mortar stores are still dominant in other categories such as grocery, winter apparel and home goods.

SMARTPHONE SHOPPING PLATEAUED IN 2021
Although e-commerce in general is up, smartphone shopping, as a subset of e-commerce, plateaued in 2021, according to data from Adobe. Smartphone shopping had previously seen steady increases year-over-year from 2014-2020, but has not made much progress since mid 2020.
Given that the inflection point in this deceleration is timed right as the pandemic started in the US, that's likely the causal factor. It may simply be that when people spend more time at home, the benefit of smartphone shopping is reduced because consumers have other, larger, screens more easily accessible.

THANKSGIVING WEEKEND WAS DIGITALLY FLAT
As mentioned previously holiday e-commerce was up 18.4% in 2021, but you wouldn't know it to look at the Thanksgiving weekend results which were flat to even a touch down in absolute dollars compared to 2020 for the first time in many years.
Based on this data it appears that all that e-commerce growth occurred before and after the "busiest shopping days of the year," but not on them.
One contributing factor: Black Friday and Cyber Monday sales have now expanded their date windows, often starting in early November and running through mid December, which may explain why digital shoppers didn't seem to feel the need to concentrate their increased spending over the Thanksgiving holiday.

AMAZON'S DOMINATES BUT DECLINES SLIGHTLY
It may seem like the only direction Amazon knows is up, but according to a study done by PowerReviews, customers responding that they would be including Amazon as one of their holiday shopping retailers declined slightly since last year.
Interestingly, other large retail sites also declined slightly in their inclusion and smaller brand sites and alternative purchase e-commerce platforms increased.
However since Amazon's decline was from a whopping 94% of those surveyed in 2020 to 93% in 2021, I'm guessing this change isn't keeping Jeff Bezos or Amazon's new CEO Andy Jassy up at night.
Or perhaps it is, because a study by Bloomberg (chart below) showed Amazon's overall sales growth this holiday was up only 5%, a slower growth rate than the overall retail holiday sales numbers. A big disappointment when compared to their incredible holiday growth of 49% in 2020.

TARGET'S CROSS CHANNEL GROWTH BEATS AMAZON AND WALMART
Target was a standout retailer for overall omnichannel growth during the 2021 holiday season. Their November sales for 2021 grew 10% from their November sales in 2020.
Between Amazon, Best Buy, Target and Walmart, Target's November sales grew more in 2021 than any of the other retailers according to a study from Bloomberg.
When combining 2020 and 2021 November sale, Walmart is basically flat while Target has growth of 24%.
APPLE: THE CLEAR E-COMMERCE GROWTH WINNER
Apple was another big winner of the 2021 holiday season with 2021 total e-commerce holiday sales up $4B over last year, a 44% increase, according to Business Insider.
This followed a similar sized leap in 2020, meaning that in two years Apple has effectively doubled their holiday e-commerce sales.
IN SUMMARY
Clearly COVID has been a major factor in holiday shopping trends both this year and last. The massive increases we saw in digital in the 2020 season have slowed a bit, and we can see clear winners emerging based, in many cases, on how well retailers handled customers' needs as their lifestyles shifted dramatically as a result of the pandemic.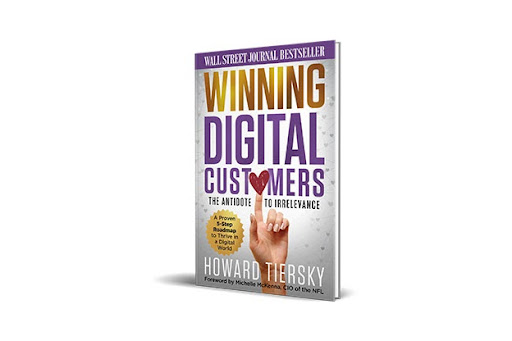 My Wall Street Journal bestselling book, Winning Digital Customers: The Antidote to Irrelevance, contains a blueprint for developing a successful strategy for your company as well as practices to aid in identifying new trends and opportunities to explore. You can download the first chapter for free here or purchase the book here.