Insights |
By Howard Tiersky
B2C eCommerce Slows As B2B Accelerates
IN 2021, U.S. RETAIL E-COMMERCE GREW, BUT AT A SLOWER RATE THAN IN 2020
Retail in general grew in 2021. And e-commerce, as a subset of retail, increased from $800B to $900B in the United States.
That is a growth rate of about 16% from 2020 to 2021. Certainly this is healthy growth, however, it's a substantial slowing of the growth from the previous year. The growth rate between 2019 and 2020 was 32%.
Of course, that intense growth in 2020 was massively impacted by COVID. The pandemic is clearly one of the most causal components to the acceleration of the adoption of e-commerce in a wide range of different categories, from grocery to delivered food to home goods, consumer electronics, apparel, and more.
People were not shopping in stores nearly as much during the early pandemic. They were instead shopping online and we saw e-commerce growth from that. I think a good sign for those in e-commerce is that even as the country is becoming more comfortable going back to stores in 2021 and beyond, not only has that growth been retained, but we saw another 16% growth in 2021.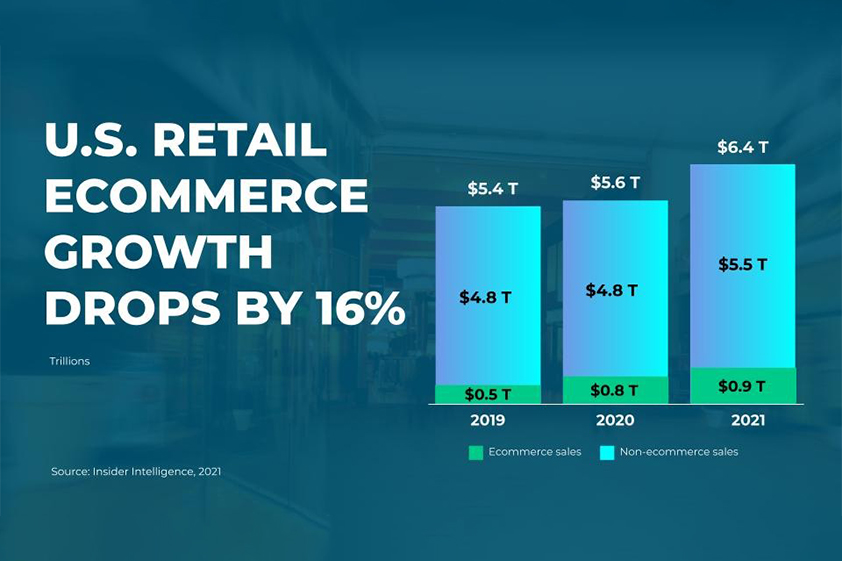 So we've returned to normal e-commerce growth rates on top of the growth that was accelerated during 2020, presumably as a result of COVID.
And what's also nice to see is after zero growth in "brick and mortar" sales from 2019 to 2020, in 2021, we saw traditional retail numbers trend up nicely at around a 15% growth rate.
E-COMMERCE GROWTH IS SLOWING WORLDWIDE
We see very similar patterns on the global level. Global e-commerce sales in 2021 were $4.9T (the US represents approximately 20% of the total).
In 2020, we saw a 25.7% growth in global e-commerce over 2019. And in 2021, we saw a decline down to16.8% growth over 2020—a similar pattern as in the US.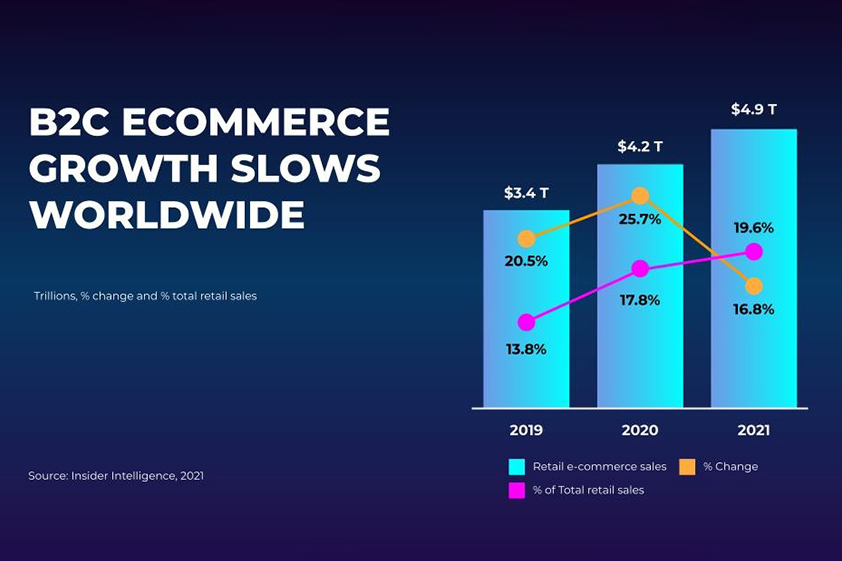 CURBSIDE PICKUP SAW MASSIVE GROWTH DURING THE PANDEMIC
As we compare e-commerce to brick-and-mortar trends, one key factor is that these two touchpoints are coming together. Omnichannel retailing is getting to the point where it is difficult to separate the in-store from online commerce as a result of order online pickup in store and curbside pickup. Both of these retailing options were, of course, accelerated due to COVID.
From January of 2020 through August of 2021, curbside pickup went from about 20% of all online orders all the way up to about 35%, based on data from Adobe.
And in fact, in 2020, 25% of all holiday orders that were ordered online, were picked up at a store. So again, we're seeing this blending of the use of the physical location together with e-commerce.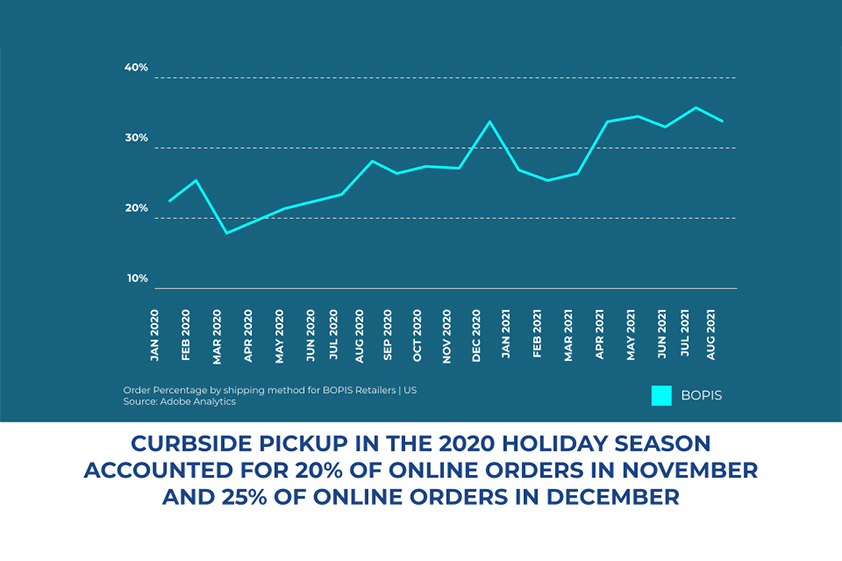 THE B2B E-COMMERCE MARKET IS GROWING STEADILY
In the B2B market, we saw a bit of an inversion of the pattern we saw in the B2C retail market. We talked about how B2C retail e-commerce growth sped up in 2020 as the pandemic hit, and now it's returned to more normal levels of growth. Well, in B2B e-commerce, we saw the growth slow during 2020 but speed up in 2021.
US B2B e-commerce growth was at 7.2% in 2019. And it grew in 2020 during the pandemic, but at a slower rate of 6.5%. And now between 2020 and 2021, it's spiked to an 8.7% growth rate. So unlike the consumer space where we saw the growth speed up and then slow down, in the B2B space, we've seen the growth slow down and then speed up.
This makes sense because in the early days of the pandemic, many businesses were not in their offices, and some businesses were totally shut down, so naturally that reduced ordering of supplies and also slowed longer term B2B investments.
And now, as businesses are focusing on a post-pandemic world, most are investing in digital transformation of their supply chain which means moving more purchases to B2B.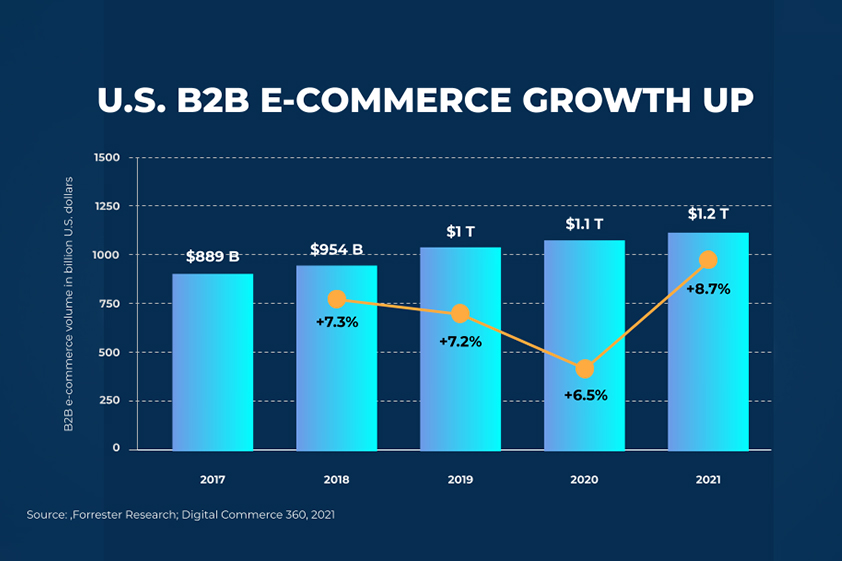 B2B ONLINE MARKETPLACES ARE BOOMING
Over the last couple of years, there's also been an explosion of B2B marketplaces where businesses can buy and sell things.
Whether it's a site like IronPlanet, where companies can buy and sell used heavy machinery, or a site like ACV Auctions, which is an auction site for car dealers, if they have excess inventory for example, those types of platforms are growing.
According to a report by Digital Commerce 360, in 2020, there were 70 known B2B marketplaces, and by the end of 2021, that number grew to over 250, many of which represent specific industries like the examples above.
We also saw the total revenue associated with these marketplaces grow about 15% from $1.4T to $1.6T from 2020 to 2021. And of course, that's a much lower revenue growth rate than the number of marketplaces which have proliferated.
As we look at 2022, we're likely going to see this revenue increase much more. A lot of these marketplaces were new and just getting themselves established in the last couple of years. But I think we're going to find that many of them start to ramp up substantially in terms of the total revenue that comes through those platforms.
IN SUMMARY
That was a quick survey of some key numbers to look back at from 2021 in the world of retail and e-commerce. I think times are still good for B2C and B2B in e-commerce. And I think it's interesting to see the trends and the impact that COVID seems to be having on commerce in general, and what that means is we look forward to 2022. Hopefully those numbers are helpful and will be useful in your own digital planning.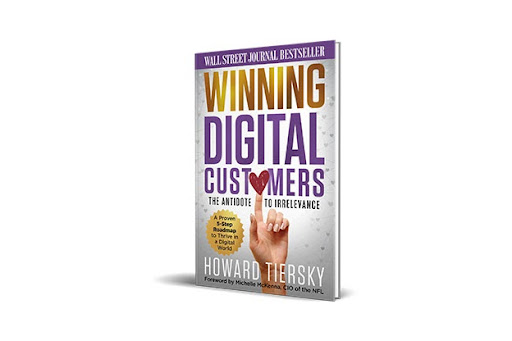 My Wall Street Journal bestselling book, Winning Digital Customers: The Antidote to Irrelevance, contains a blueprint for developing a successful strategy for your company as well as practices to aid in identifying new trends and opportunities to explore. You can download the first chapter for free here or purchase the book here.