Insights |
By Howard Tiersky
THE 5-STEP FORMULA TO DIGITAL TRANSFORMATION SUCCESS
There are courageous executives out there who make it their personal mission to drive the innovation needed to position their companies to win the love of today's digital customers. Most are highly competent and passionate about transforming their companies to utilize digital to drive outstanding customer experiences. Still, many of them will fail. It's heartbreaking, but the path to digital transformation is never easy. It's filled with pitfalls that can foil even our best efforts and send them crashing down in flames.
There are many methodologies to approach digital transformation, and based on statistics, it appears that some of them don't work all that well.
A KPMG survey found that 96% of organizations were embarking on some phase of digital transformation.
But Forbes reported that 84% of transformation efforts have failed.
Further, a Capgemini study found that only 39% of organizations report having the digital capabilities needed to turn their investments in digital into business success.
That's the main reason why I wrote a book called WINNING DIGITAL CUSTOMERS: THE ANTIDOTE TO IRRELEVANCE. This book explains what some of the key challenges are when driving change, and reveals as well the most important success factors to winning in a digital age.
Most importantly, the book provides you with a tested and proven formula for how to transform your business in order to win the love of your customers. The formula has five activities, outlined briefly below.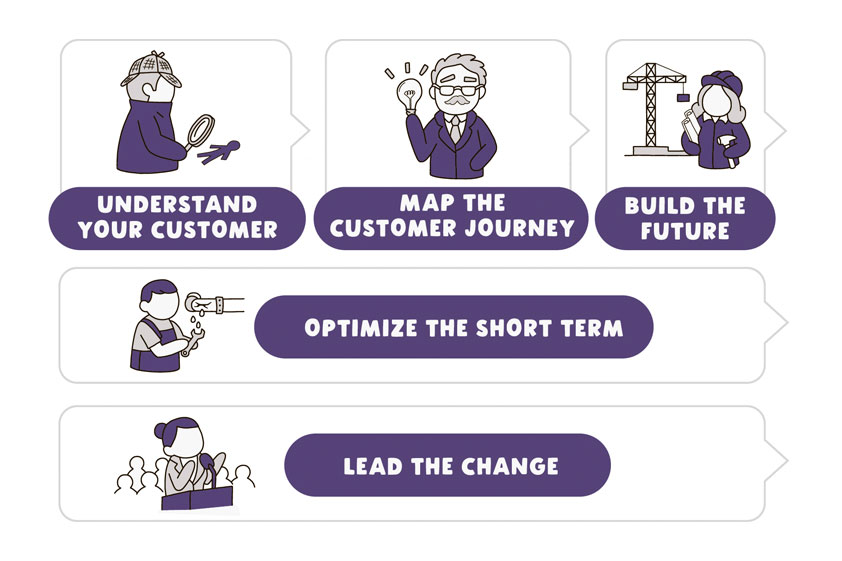 UNDERSTAND YOUR CUSTOMER
Understanding your customer thoroughly is foundational to being able to anticipate what experiential changes will move their behavior in the right direction. This is the reason why "Understand Your Customer" is the first activity in our five-part Customer Love Digital Transformation Formula.
How do you go about understanding your customer? Through research—a variety of different types of research. By using a detailed approach to identifying who your customers are, you will be able to gather and synthesize the research insights that will yield a rich, actionable understanding of them. Leveraging that understanding, in turn, will help you design an experience that inspires the behaviors that align with business success.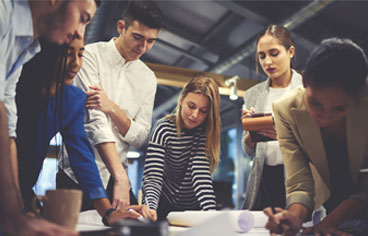 MAP THE CUSTOMER JOURNEY
The second activity consists of developing a vision for the future customer experience and expressing it in the form of a customer journey map—a type of detailed infographic that communicates the end-to-end customer experience you intend to create.
There are two high-level steps to doing this. First, document how to define the major steps customers go through in the course of their interactions with your brand and map out where customers' needs are not being met today. Second, draft a new vision of the step-by-step experience for customers, describing how different channels interoperate and illustrating how what were previously customer pain points will transform into a more elegant experience.
BUILD THE FUTURE
Now that you have a "North Star" description of the customer experience you want to create, you are ready to start driving the transformation necessary to deliver on that vision—to build the future.
Delivering on your bold, ambitious vision will involve many considerations—some technical, some organizational, some operational, some political. In fact, you will probably need to involve every part of your company, from the finance department, to operations, to marketing to legal, and maybe even some parts you didn't even realize existed.
Also, though your journey map lays out a high-level vision for the customer experience and it no doubt implies a variety of different, specific touchpoints, such as websites, mobile apps, and chatbots, it does not describe the precise detail of these individual systems such as their exact features, user interface, and technical architecture in sufficient detail to actually build them.
These first three activities should also be approached more or less sequentially, although in the "real world" there will probably be some overlap or back and forth. The last two activities, however, occur completely in parallel with those first three.
SHORT-TERM OPTIMIZATION
Building the future can take quite a while. While you are working on it, you can generate more immediate value by focusing on "low-hanging fruit"—areas where you are "letting the customer down" that you can fix quickly. That way, you get quick results within your current reality, no matter how far along you are within your overall transformation.
The optimization process should start in parallel with other transformation activities and continue on an ongoing basis. It should deliver quarterly or even more frequent improvements to the customer experience, as well as to the bottom line, while more long-term efforts are brewing. Frankly, even once your transformation is "complete" (if that is even possible), optimization is a process that should continue indefinitely. No matter how great your customer experience is, there is always an opportunity to improve.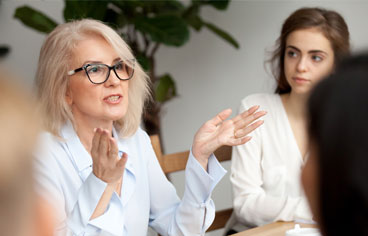 LEAD THE CHANGE
Digital transformation requires bold, courageous, and determined leadership. The final activity in our 5-step digital transformation formula addresses the challenge of leading these multifaceted transformation efforts, overcoming resistance to change, assembling the teams needed for success, and getting your organization sold and aligned on an ongoing transformation.
Of course, leadership doesn't start at the end—it's something that needs to be present from the very beginning. It's foundational to everything else and the most important part of success. Digital transformations will face all kinds of challenges and resistance, and without outstanding leadership, the chances are slim.
You absolutely can succeed if you have sufficient determination and follow the right process. This formula gives you a proven process. You will need to bring the determination.
Of course I've only touched on these five areas in this article, my book WINNING DIGITAL CUSTOMERS, goes into great detail on each—giving you an actionable blueprint for success each step of the way. You can get access to the first chapter for FREE by clicking this link: https://wdc.ht/freechapter.