Insights |
By Howard Tiersky
3 ABSOLUTE REASONS WHY YOU MUST TRANSFORM RIGHT NOW
Digital transformation is essential to keep up with a rapidly changing world, and the companies that are finding the most success are those that have reconfigured themselves to be able to adapt to that world. Here are the three key reasons why digitally transformed companies are thriving today:
Reason 1: REMAINING RELEVANT TO THE CUSTOMER
Customers today demand a superior digital experience, and, increasingly, if you don't provide it, you are irrelevant. A Salesforce study found that 80% of customers view "the experience" a company provides as equally important to its products and services. Similarly, a PwC survey reported that 73% of people view customer experience as essential to their purchasing decisions, and that 32% of customers say they'll stop patronizing a business if they have just one bad experience.
But across industries, most experiences being offered today are simply not up to customers' expectations. For example, PwC also found that only 49% of U.S. consumers say that companies are providing a "good" customer experience today.
Brands spend a lot of energy promoting online content about their brand and products and how great they are. But market research has shown that consumers today have massive cynicism today about what brands "say" about themselves. As Trinity Mirror and Ipsos Connect found in a study, almost half of consumers have a general distrust of brands and 69% specifically distrust their advertising.
So how do consumers evaluate your brand and products if they assume most of what you say is a lie? Mostly, from their own digital experience. If your website is confusing and disorganized, that is the message people will take away. If your signup process is cumbersome, they assume that your product will be as well. If your error messages are unfriendly, they assume that your customer service will be surly as well.
Reason 2: GAINING THE EFFICIENCIES TO BE COST-COMPETITIVE
Companies that are winning in the digital economy are delivering a dramatically improved value proposition—offering customers more for less. How do they manage to do that? It helps to have investors who are patient about whether the company operates at a profit. But more long-term, these companies are able to offer more for less because they leverage digital efficiencies to operate in a different way— harnessing tools like crowdsourcing, AI and process automation.
If you don't have access to these types of opportunities to increase efficiency, it can be difficult or impossible to be price-competitive with those that do and still operate profitably.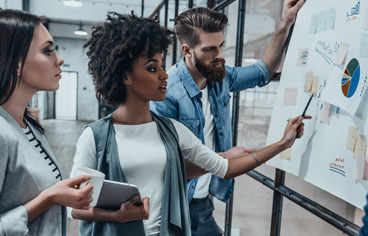 Reason 3: ATTRACTING AND RETAINING TALENT IN THE ORGANIZATION
Millennials want to be part of companies that are digitally savvy. This might be the most important reason of all to ensure that your company has a high level of digital effectiveness—to be attractive to the next generation of employees.
A study by the market research firm Pen Schoen Berland found that 82% of millennials can be swayed in their career decisions by a digitally equipped office, while 42% would leave a company due to "substandard technology." Similarly, Microsoft found in a study that 93% of the millennials polled cited modern and up-to-date technology as one of the most important aspects of a workplace.
Together, these three reasons give digitally transformed companies huge advantages that make them perform better. That is why by reconfiguring your own organization, you can model the success of those companies and put yourself in a more competitive—even dominant—position.
I have a new book, WINNING DIGITAL CUSTOMERS, where I outline a proven 5-step transformation roadmap for companies like yours that want to drive business success and thrive in the digital age.
You can download the first chapter FREE by clicking this link https://wdc.ht/freechapter.