Insights |
By Howard Tiersky
10 Lessons From Shakespeare on Leadership and Digital Transformation
Digital Transformation can be quite dramatic. There are heros—and often villains—trying to undermine efforts essential to the company's success because they don't align with their own personal or career interests.
Shakespeare clearly knew very little about digital transformation, but many of his plays were about leaders facing betrayal, revolution, and sabotage, which, unfortunately, are topics closely related to the challenges companies face today around digital transformation.
Here are ten famous lines from Shakespeare that can provide insight to help you through your digital transformation journey.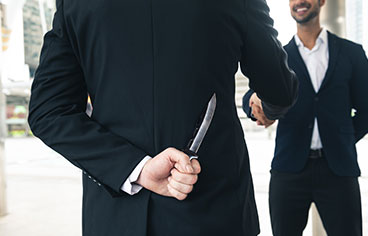 "BEWARE THE IDES OF MARCH"
(AKA "WATCH YOUR BACK")
Prior to his murder, Julius Caesar was warned by a fortuneteller that his life was in danger and to be particularily watchful on March 15 (the Ides of March). On that day, Caesar entered the senate and was passed a letter that warned him about an imminent assassination attempt, but Caesar refused to read it, saying, "what touches us ourself shall be last served," meaning he was going to focus on matters concerning the state before putting his attention on matters relating to his personal benefit.
While it may seem good that Caesar wanted to focus on matters of the greater good over his personal interests, his single-minded focus on the affairs of the state ultimately led to his untimely demise.
Similarly, you may be leading a transformation for all the right reasons, but there may be those who are seeking to undermine it. You need to be aware of internal politics because there could be many potential saboteurs; some may target you personally. If they successfully stab you, how will your mission fare?
In other words, don't be so focused on your larger mission that you forget to watch your back. If you are leading a major transformation, there's probably someone lurking in the corner with a knife.
"TO BE OR NOT TO BE, THAT IS THE QUESTION."
In this quote, we find Hamlet upset about change. He has been led to despair by the death of his father and the betrothal of his mother to his uncle.
While the change you are driving may not be a soap-opera-esque as Hamlet's drama, it's quite natural for people to be worried or even despair about significant changes in their lives. Most transformation efforts will require significant change from many of your company's employees, perhaps moving some from one role to another or introducing a new way for others to perform their work. For other employees, the transformation may threaten their job security.
Hopefully, nobody will be driven to contemplate suicide as Hamlet does, but nevertheless, despair over transformation can impact their cooperation with the effort, morale, and retention. Help them see a positive future as you go through the journey together.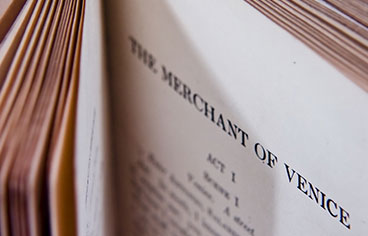 "IF YOU PRICK US, DO WE NOT BLEED?"
In The Merchant of Venice, Shylock, a Jew, is on trial in an anti-semetic community. He reminds the Venetians with this quote that Jews are human too and deserve empathy.
Empathy is also essential in Digital Transformation.
It's easy for companies to start thinking of their customers as one-dimensional actors to be herded into engaging in transactions, but understanding your customer in their full complexity is a crucial part of being able to achieve the goals of transformation.
To achieve this, conduct market research and develop customer personas. Try to understand your customers' hopes, dreams, and fears.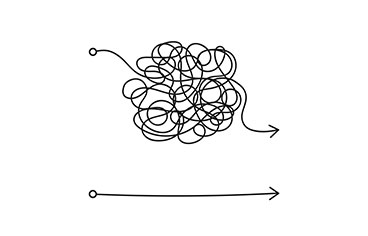 "BREVITY IS THE SOUL OF WIT."
This quote is from another scene in Hamlet where Polonius expounds to the king and queen on the principles of good communications.
His point is that good communicators get straight to the point and keep it short.
As you build your digital customer experience, remember that people have an increasingly short attention span, especially for the written word.
Use a style of communication that provides the most critical and persuasive information in a very short form and allows the user to dive deeper if they wish.
"ALL THAT GLITTERS IS NOT GOLD."
In The Merchant of Venice, Portia's father devised a test to help her avoid suitors that were fortune hunters. The prospective husbands had to choose between a gold, silver, and lead chest with only one containing her picture and the right to claim her hand in marriage. Within the golden casket was a rejection letter with this famous line.
There are often forces within the organization who want to chase shiny new objects like artificial intelligence and machine learning when talking about transformation without focusing first on how it could deliver value for the customer.
A more effective approach is to understand how you can authentically serve and meet your customer's needs and be worth more to them than your competitors. Focus on this before considering what kind of technologies will help you achieve that. It may be that seemingly basic and practical improvements are more valuable than a shiny new technology, anyway.
"WE KNOW WHAT WE ARE, BUT KNOW NOT WHAT WE MAY BE."
In Hamlet, as Ophelia is having a mental breakdown over the uncertainty of her future relationship with the prince, she utters this famous phrase. She points out that people sometimes have limited thinking rooted in who they already are, which can make it difficult for them to envision who they might become in the future.
Similarly, some companies get stuck focusing on their existing products, customer targets, and business models, which holds them back from thinking about who they could be.
7-Eleven started as a company selling blocks of ice for "old fashioned" ice boxes (the precursors to today's electric refrigerators), but they then had the idea to expand to sell items they could keep cool with their surplus ice, such as cheese and milk. Now, they're the convenience store we know today. That change wouldn't have been possible if they kept insisting that they were only an ice block store.
Developing a transformation vision and following through with it requires a conscious and intentional shift from who you think you are to who you can be for your customers.
"WHAT'S IN A NAME? THAT WHICH WE CALL A ROSE BY ANY OTHER NAME WOULD SMELL AS SWEET."
In this monologue, Juliet is saying that things are what they are no matter what you call them.
One problem in the business world is that we often use terms without a common agreement on what they mean. For example, what you would consider to be a "strategy" might not be what someone else thinks a "strategy" should look like. What it means to have a "brand" or a "vision" or a "roadmap" are also subject to interpretation.
Whenever you talk to your team, colleagues, or stakeholders, make sure you use clear terms that leave no room for misinterpretation, define specifically what you mean, and offer concrete examples so that everyone is on the same page about the vision and direction of the transformation.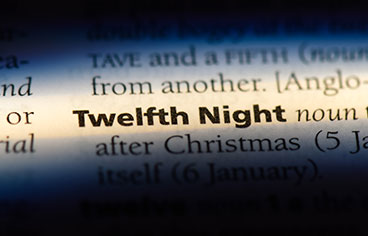 "SOME ARE BORN GREAT, SOME ACHIEVE GREATNESS, AND SOME HAVE GREATNESS THRUST UPON THEM."
This quote from Twelfth Night reminds us that there are some who may not be seeking "greatness" but find themselves in an opportunity where greatness is being demanded of them. If you find yourself in a situation where there's an opportunity, even if you don't feel that you are fully prepared or empowered, step up.
For example, during COVID-19, many digital leaders had to massively accelerate their efforts to provide needed capabilities for business continuity.
The "thrusting" of opportunities for greatness can be caused by world events, sudden departures of team members, or various other crises or opportunities.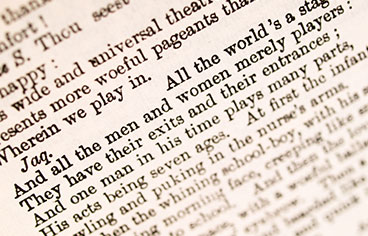 "ALL THE WORLD'S A STAGE, AND ALL THE MEN AND WOMEN MERELY PLAYERS… AND ONE MAN IN HIS TIME PLAYS MANY PARTS."
Jacques, from As You Like It, describes the seven stages of life from childhood to teenage years, adulthood, and ultimately old age.
Similarly, when thinking about your relationship with your customers, see it as an evolving story. Customers change as they develop their relationship with your brand and, of course, their needs also change as their life circumstances evolve.
Customers can also play different roles, even during the same stage of life. The same customer could book a rental car from you for a business trip and the next day book one for their vacation; they could be coming to your store to buy something new, then a few days later they could be coming to you for a repair.
Being able to segment customers by what journey stage and customer segment they are in and illustrate the "customer journey" in stages, as Jacques does, ensures you are thinking about how to meet their needs at each stage.
"OUR DOUBTS ARE TRAITORS, AND MAKE US LOSE THE GOOD WE OFT MIGHT WIN, BY FEARING TO ATTEMPT."
In this quote from Measure for Measure, Lucio urges Isabella to take action to save her brother's life, despite her fears of getting caught.
When we're afraid of moving forward with a transformation because we're doubtful, we hold ourselves back from achieving the great things that are possible if we overcome those fears. The bigger the change you're trying to make, the less certain you're going to be about the outcome.
When embarking on bold business transformation, there are always risks and reasons for doubt or uncertainty, but if we let these hold us back we often miss the opportunities for glory.
There are also many things you could do to minimize those doubts, like research, prototyping, and creating minimal viable products. Instead of fearing to attempt, use doubts as signals that more steps, work, or research are needed to increase or verify the accuracy of your plan to achieve your goal. (This a topic I discuss at length in my Wall Street Journal Bestselling book Winning Digital Customers: The Antidote to Irrelevance. You can access the first chapter for free here or purchase the hard copy here.)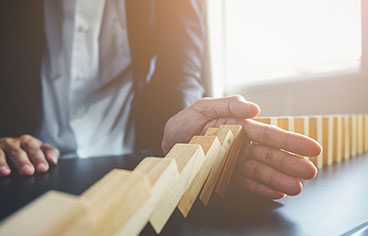 BONUS: "MEN AT SOME TIME ARE MASTERS OF THEIR FATES; THE FAULT IS NOT IN OUR STARS, BUT IN OURSELVES, THAT WE ARE UNDERLINGS."
In this quote from Julius Caesar, Cassius is persuading Brutus to take action to kill Caesar by emphasizing that while "fate" may have seemed to crown Caesar as the ruler of Rome, people can choose to take action to change things.
In any transformation, there are always problems or circumstances that seem less than ideal. It's easy to blame things that are beyond your control, but there are plenty of examples of people who overcame huge challenges and leveraged them for success. For example, Warren Buffett, Disney, and Apple all started in down markets.
While we don't advocate murder, when faced with something that feels insurmountable, ask yourself how you can take matters into your own hands and turn it into an advantage that could lead you to massive success.
Shakespeare's plays are filled with lessons on how to overcome challenges of leadership and transformation. These lessons are still highly relevant because while technology may change, the fundamental characteristics of leadership and transformation appear to transcend the centuries.
In my Wall Street Journal bestselling book, Winning Digital Customers: The Antidote to Irrelevance, I discuss overcoming digital transformation challenges such as organizational resistance to change. You can access the first chapter for free here or purchase the hard copy here.